Katie Perry's fireworks launch SDSU to MW title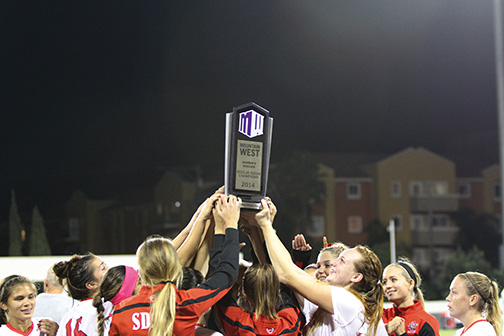 Three's typically a crowd. That's never the case when talking about championship trophies.
On Saturday night in front of a raucous crowd at the SDSU Sports Deck and the loud distant rumbling from the KGB Sky Show at Qualcomm Stadium, the top-seeded San Diego State women's soccer team captured its third straight Mountain West Championship title with a 1-0 victory against the University of Wyoming.
The feat was made all the more impressive after winning it the previous two years and with a group of a lot of new players.
"Coming into this year we knew everybody was going to come after us and I think that's the thing that kind of separates this championship from the other two is how hard it's been throughout the regular season," head coach Mike Friesen said.
Senior midfielder Katie Perry's overtime game-winning strike gave SDSU a deserved win against a Wyoming squad bent on upsetting the tournament hosts and seeking revenge for a 5-2 drubbing earlier in the season at the hand of the Aztecs.
It was scoreless going into overtime, but with SDSU's 10 corner kicks and 23 shots, a lot of people in the crowd were thinking SDSU had plenty of opportunities to cash in.
Senior midfielder Kelsey Booth forced senior keeper Alex Boehm into a first-half save with a slow rolling shot. On the ensuing corner kick, sophomore defender Jen Rupey missed a wide-open header.
Perry came close early on with a 20-yard shot that ricocheted off the post.
If anyone was keeping track of possession, the Aztecs might have had the ball about 80 percent of the game, which was mostly played in Wyoming's half.
Friesen said the fact that SDSU pinned Wyoming in one half of the field sort of changed how his team approached the match in the second half.
"There's so many bodies that at some point we had to really create something by going quickly for it," he said.
Because of that, SDSU was vulnerable to counter attacks and was almost burned if not for two wasted chances late in the game by the Cowgirls.
Wyoming freshman forward Kaitlyn Lomsnes nearly stunned the home crowd when she was clean through against Aztec junior keeper Melanie Vaughn, but Vaughn snatched the ball before Lomsnes could fashion a chance.
With nearly a minute left, Cowgirl sophomore forward Laurel Ramer was wide-open with the ball and sent her shot on its way toward Montezuma Road.
In overtime, the Aztecs finally found the quality chance they'd been seeking but hadn't found all night.
Sophomore forward Morgan Darling controlled a perfect long ball and set up Perry who smashed in from just outside the penalty box, sparking wild celebration scenes on the field and in the stands.
"We work so hard and we never give and I knew we were going to score," Perry said. "We just had to be patient."
Now the Aztecs wait and prepare for their first opponent in the NCAA Tournament as they try to make up for the first-round loss to the University of California, Los Angeles they had in 2013-14.