Sea Lions flop late against Aztec women's basketball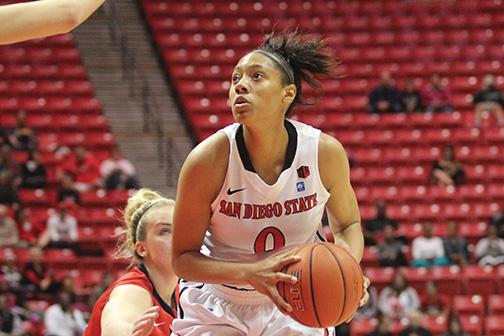 San Diego State's women's basketball team edged out a 55-52 win against Point Loma Nazarene University on Saturday at Viejas Arena in its first and only exhibition match of the season.
The Aztecs were able to stave off the Sea Lions thanks to a clutch layup from junior forward Deidra Smith to put the Aztecs up three points with just 36 seconds left in regulation. Pivotal free throws from junior point guard Ahjalee Harvey with 20 seconds left that put the game on ice for SDSU.
SDSU has been without Harvey since before conference play due to a knee injury. She scored eight points in 27 minutes in her return, but struggled from the field going 1-7 and 1-5 on 3-pointers.
Another player returning from injury was junior forward Erimma Amarikwa, who only played seven games last year before undergoing a season-ending hip surgery.
Amarikwa helped the Aztecs jump out to a 29-19 lead in the first half. She led the team with 12 points on 6-10 shooting.
"Her potential is limitless," head coach Stacie Terry said in a preseason press conference. "She's just a tough kid and when she turns it on, she's hard to stop. She's going to make a huge impact on the team this year."
The Sea Lions came storming back though with an 18-4 run, which gave Point Loma a 37-33 lead about halfway through the second half. A key factor in the Sea Lions comeback was improving on their 15.4 field goal percentage in the first half, by making 64.7 percent of their field goals in the second half.
SDSU was able to hang on, though, thanks to the crucial play from Smith and Harvey.
A lot of credit for the win goes to the post-play though; something Terry knew would be the team's strong suit even before the season started.
"Our post presence is pretty good," she said. "We'll be looking to get the ball inside quite a bit this season."
The Aztecs post presence was alive on Saturday afternoon, as they out-rebounded Point Loma 45-24, and had four players with at least five rebounds compared to just one for the Sea Lions.
Smith led the team in rebounds with eight, edging out senior forward Khristina Hunter by one rebound. Hunter also had one of the team's two blocks on the day.
One of the other players who got at least five rebounds was the Mountain West's Women's Preseason Freshman of the Year McKynzie Fort who grabbed six rebounds while racking up six points.
"McKynzie (Fort) is a freak-athlete and was a great signing for us," Terry said.
Fellow freshman guard Cheyenne Greenhouse got the start in her Aztec debut, but struggled scoring just two points — both on free throws — while going 0-3 from the field.
Now the Aztecs set their sights on the first game of the season against California State University, Sacramento, on Friday Nov. 14, at Viejas Arena.