Athletic trainers gear up for success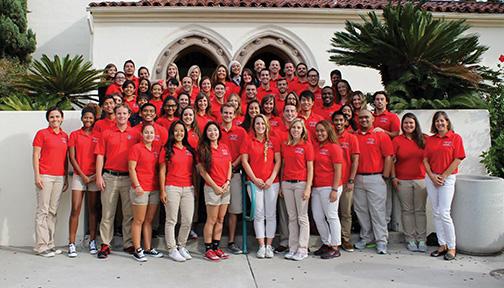 Whether it's attending athletic training classes, interning at multiple schools or volunteering at local events, members of the San Diego State Future Athletic Trainers' Society are constantly active.
The student-founded organization, comprised of approximately 70 kinesiology majors with an emphasis in athletic training, strives to educate the public and its members about the athletic training profession.
Members of FATS hope to pursue a career in athletic training where they will be responsible for injury prevention, evaluation and rehabilitation of athletes from a multitude of sports.
Club President and athletic training senior Kristi Thomas began her journey with FATS as a freshman, and has since developed strong connections with fellow club members.
"There are about 30 of us in the same year, and we take a majority of our classes together, so we know each other really well," Thomas said. "It's kind of like this family that you build."
The club holds one fundraiser event and actively participates in one community involvement event each month.
"Our biggest event is the golf tournament and the funds that we make send our students to athletic training conventions," Thomas said. "The main goal is sending students to these conventions so they can start networking with professionals in our career path."
They assisted at TriRock San Diego TriRock San Diego, the largest triathlon event in the city of San Diego, on Sept. 21 at South Embarcadero Park. Club members applied their skills from athletic training courses to perform first aid when dealing with competitors' injuries or wounds.
To be a member of FATS, students must be a part of the College of Health and Human Services, have good academic standing and be a current athletic training intern or planning to enter the internship program.
To fulfill the internship requirement put forth by SDSU's athletic training program, Thomas interns at Grossmont College, where she spends an average of 20 hours per week working with the women's volleyball team, as well as the college's football team.
Nicole Pfutzenreuter, a senior member and athletic training major, is currently an athletic training student intern for SDSU Athletics, where she works with the women's water polo team. Before the matches, Pfutzenreuter stretches the athletes and keeps the players hydrated. She must carefully assess and tend to acute injuries, which are injuries that occur without notice and come on suddenly during the matches. Pfutzenreuter also rehabilitates athletes with strengthening exercises after their matches.
"There are 10 clinical sites which include two high schools, five junior colleges and three universities, including SDSU, that host the athletic training student interns," Pfutzenreuter said. "Being a former athlete in high school, I can relate to what my athletes are going through when they're injured, and help them overcome their injury: it's rewarding."
Pfutzenreuter has also found it to be a great networking oportunity.
"It's not just about who you know, but how well those people know you," Pfutzenreuter said.
FATS holds meetings in the SDSU athletic training room at 7 p.m. on the first Tuesday of every month to discuss upcoming events while building relationships within the university's club. Members are required to attend meetings and pay monthly dues that benefit the school's athletic training program.
Those outside of the club interested in athletic training are welcome to attend the meetings and are also invited to subscribe to the clubs newsletter, both free of charge.
"My favorite part is being able to educate people about what I love to do," Thomas said. "I love being able to teach people both in the program and outside of the program about athletic training, as well as getting their input, because it's really a collaborative career."