Coupon-hunting made easy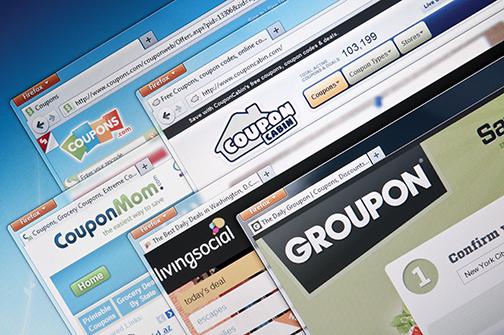 As most San Diego State students eventually come to realize, college is definitely not cheap. Students commonly try to save money however they can—even if it means eating noodles for a month straight. Luckily for students, there are companies like Groupon and LivingSocial that were created solely for the purpose of helping their users save money.
Groupon: Launched 2008, Chicago
Groupon launched as a website containing discounted deals redeemable at businesses in a specific area. Many students use the site to get discounts at restaurants and concerts. Merchants receive 50% of the revenue per coupon deal used by customers.
Pros:
Groupon can be downloaded on iPhone or Android for mobile usage of its services. Groupon gives the user the ability to search by category, keywords or location. The site also features a "recommended for you" section, giving the user a list of activities based on previous purchased deals and a desired price point. Groupon is more commonly used among college
students compared to other sites run by competitors. At the bottom of the page, Groupon features the most popular categories searched by other users. There are numerous restaurants in the San Diego area that offer discounted food and drink credits that may be purchased by the user.
Cons:
Make sure to read the fine print for every deal before making a purchase. Many deals expire quickly and have complicated limits on their uses per person. On some occasions, users find that the product or experience advertised is exaggerated, causing a bad experience. When a user is ordering a product, double clicking may result in a duplicate product that is hard to return. Before booking a hotel, call the hotel for information because many times the deals do not match the rooms as advertised.
LivingSocial: Launched 2007, Washington D.C.
Similarly, LivingSocial also launched as a website devoted to providing a way for users to access deals about possible experiences in a given city. Merchants receive 60% of the revenue per coupon deal or voucher used by customers.
Pros:
LivingSocial is also available for download on either iPhone or Android for mobile use. The site also gives the user the option to search by category, keywords, and locations around the world.
In addition to the deals offered, LivingSocial also offers a "Coupon" section where users can find increased deals on products. There is also another section showing the newest deals of the week along with their low prices.
Cons:
LivingSocial has huge customer service issues. There are many telling instances on online review boards explaining times when the deal expired before the buyer could use it. LivingSocial does provide a phone number that customers are supposed to call if there is a problem, but they are rarely able to create a solution.
Make sure you read the fine print on the deals in the "escape" section and call the hotel to make sure the deal will be available on the specific time of arrival. Many purchases by users were never received and the company provided no support in finding the package. Returning purchases for a full refund is a nightmare in itself, according to online reviews.