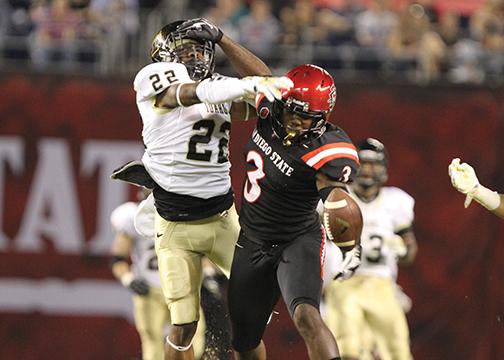 The San Diego State Aztecs travel to the headache-inducing blue turf this Saturday to play the Boise State University Broncos. If SDSU wins it will become the first team to beat the Broncos three straight years since the University of Nevada, Reno, did it in 1996-98.
So, yes, this is a big game. Huge game, actually, considering SDSU must win out for a shot at the Mountain West title.
But predicting how the Aztecs will play is a bit like playing the bracket challenge during the NCAA Tournament. Sure it's fun, and sure you definitely pick winners based on sound advice and research. But in the end it's a crapshoot — it's Russian roulette.
The boys in red and black opened their season on fire, dismantling Northern Arizona University and barely losing a heartbreaker to then-No. 21 University of North Carolina in Chapel Hill.
They then lost two of the next three at Oregon State University and Fresno State University, and were thoroughly outplayed in both losses.
Rocky Long and company seemed to get back on track with impressive wins against University of New Mexico and University of Hawaii, but they laid an egg at the University of Nevada, Reno, after owning first place in the MW West division for a whopping seven days.
Long is confident heading to Boise, though, and said at this week's press conference that the Broncos don't scare or mystify his team like they used to.
"I think it was that way maybe three or four years ago," he said. "It's not that way now."
So here's an attempt to predict what'll happen in the ice-cold Boise air this Saturday.
Offense
Calling the Boise offense "good" would be a woeful understatement. Think of an SEC-level defense. Now picture an offense with the same type of efficiency and power. That's what Idahoans get to see on the blue turf every fall.
Since 2000, Boise State has scored 40.12 points per game, the most of any Football Bowl Subdivision team — about two points more than the University of Oregon.
Head coach Bryan Harsin has the 2013-14 Broncos putting up similar numbers, scoring 37.7 points each game, good for 17th in the country.
Senior quarterback Grant Hedrick has completed more than 70 percent of his passes and junior running back Jay Ajayi has rushed for 1,146 yards.
Ajayi's season total is second in the conference to somebody SDSU fans know pretty well: sophomore running back Donnel Pumphrey.
Pumphrey has 1,216 rushing yards to his name this year, good for sixth in the country.
But SDSU's offense has a sporadic wild card: the passing game. Injuries have kept senior wide receiver Ezell Ruffin, senior quarterback Quinn Kaehler and redshirt-sophomore Eric Judge from forming the air attack fans anticipated this preseason. But Long recently said his passing game may finally be coming together.
"I thought (the Idaho game) was the best Quinn (Kaehler) has thrown since he got hurt, and I thought more receivers showed that they can make plays," he said. "And that gives you confidence."
Defense
SDSU's young and inexperienced secondary has blown all expectations away this season. Who'd have thought a secondary returning just one starter would allow less than 200 passing yards per game after 11 weeks?
Long's rush defense, on the other hand, is matching its lofty preseason expectations, allowing the 41st-fewest rushing yards per game in the country.
Put those two defensive units together, and you get a defense that allows the 20th-fewest points per game in the country. Those numbers should improve now that redshirt-junior linebacker Jake Fely is back on the field.
Boise State's defense is no schmuck, but its numbers simply don't compare to SDSU's. The Broncos allow the 89th-fewest points per game in the country and have averaged 38 points allowed the last four games.
Special teams
The Aztecs average more than the Broncos on punt and kick returns. Sophomore wide receiver Lloyd Mills has also returned a punt for a touchdown; no Bronco has done the same.
Boise State redshirt-senior placekicker Dan Goodale kicks field goals at a better clip than SDSU junior placekicker Donny Hageman. But Hageman boots it better from long range, knocking through three of four kicks from 40-49 yards out, while Goodale has knocked three of six from that distance through the uprights.
Boise State owns the best home winning percentage since 2000, and its offense is just too good to bet against. This should be a solid opportunity for the Aztecs to prove themselves on the road.