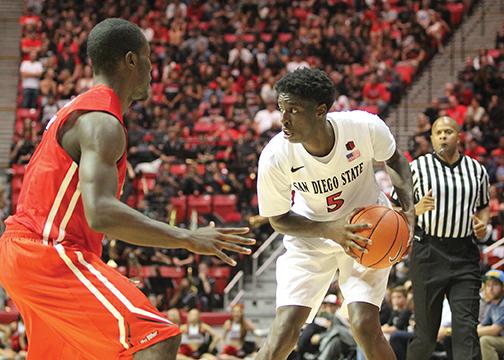 Senior guard Aqeel Quinn stared into the Fox Sports San Diego camera on the baseline Friday night as he walked to the free-throw line after getting clobbered on a successful lay-up attempt. In that moment, fans at home caught a glimpse of what Viejas Arena witnessed all night: Quinn was locked in and ready to go against his former team.
Two years ago, Quinn left a scholarship at California State University, Northridge, to play as a preferred walk-on at San Diego State. Friday night, Quinn led all SDSU scorers with 15 points in just 17 minutes and helped his team open the season with a resounding 79-58 victory.
"I'm speechless, I can't really express my emotions right now," Quinn said after the game. "I was just ready to play. I put in a lot of work this summer, and I am just glad I was able to show it tonight."
SDSU's first points of the season came when senior forward Dwayne Polee II drained a corner 3-pointer at the 18:21 mark — ironic considering the Aztecs clanked all their 3-point attempts in their exhibition game against Point Loma Nazarene University.
The Matadors hung tough with SDSU for most of the first half, though. The boys from up north matched the Aztecs tit-for-tat on the boards and made Steve Fisher's full-court defense look porous at times, scoring 12 fast-break points.
When sophomore guard Aaron Parks weaved through the Aztec defense and easily drew a foul attacking the basket, CSUN head coach Reggie Theus screamed to his team — telling them to keep driving the ball.
At that point SDSU held a slim 19-16 lead. But freshman guard Kevin Zabo danced around Matadors to score at the rim on the next possession, spurring a 21-5 scoring run to put SDSU up 41-21 at halftime.
CSUN senior forwards Stephen Maxwell and Stephan Hicks had big games for the Matadors, scoring 15 and 16 points, respectively. Maxwell had a successful night on the boards, too, grabbing 10 rebounds.
But even he couldn't get past the long arms of junior forward Skylar Spencer, who blocked six shots on the night — five of which were Maxwell's shots.
"(The Matadors) are pretty aggressive in (attacking the rim), but when they do get by us — if they do get by us — we have Skylar there to correct our mistakes," senior forward J.J. O'Brien said. "So it's a good thing to have him in there. It's going to be hard for (anyone) to drive when we have him in there."
O'Brien, usually the guy with the impact but not the stats, lit up the stat sheet Friday night. He grabbed seven rebounds and dished out four assists. He also put up 13 points, nine of which came in the last five minutes of the game.
"I was just trying to do my job out there," O'Brien said. "Trying to be a leader, trying to help everybody out, find people when I had the ball, trying to get offensive rebounds and in the end it opened up for me to score."
The Matadors scored nearly as many points in the paint as the Aztecs, 36 to 40, and grabbed just three fewer rebounds than Fisher's squad. But SDSU had a decided advantage in bench points, outscoring CSUN's depleted bench 33-12.
Junior forward Angelo Chol shot 100 percent from the field and grabbed four rebounds in 15 minutes on the court.
Sophomore guard Dakarai Allen played 14 minutes in redshirt sophomore Matt Shrigley's absence. Allen thoroughly impressed in the effort category, grabbing two offensive boards and saving an SDSU turnover in front of the scores table.
Zabo spelled freshman guard Trey Kell for 15 minutes, scoring four points and recording an assist. He also flashed some nice spin moves, one on a drive to basket and the other on a nice half-court assist to Polee, who finished the game with 11 points.
Junior forward Winston Shepard kept up his consistent play from the exhibition, scoring 14 points and getting to the free-throw line 10 times.
SDSU next plays the Associated Press No. 25 University of Utah Nov. 18 at 1 p.m. in Viejas Arena. The Utes opened their 2014-15 campaign with a 90-72 win against Ball State University.
Read about how the Aztecs fared in their exhibition game against Point Loma Nazarene University here.