Seattle trio brings unique musical Flavr to San Diego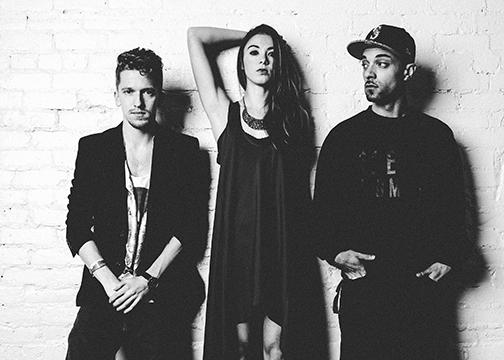 The Flavr Blue has been making its way across the music industry with two EPs out and live sets at major music festivals. The Seattle-based electro-pop trio began playing together when Parker Joe and Lace Cadence were working on the production for an EP release of The Flavr Blue, and the two requested Hollis Wong-Wear if she could be a guest vocalist on one of the tracks.
"We made a track that night and it was called 'In My Dreams,' and it's a song that was on our first album," Wong-Wear said. "It was kind of an epiphany. We were all just like, this is a really great chemistry that we would love to explore."
As the trio grew together during the past few years, The Flavr Blue has constantly built its music and sound.
"I think what we aspire to do in The Flavr Blue is to blend genres." Wong-Wear said. "Blend sound and blend sensibility toward something that is kind of surprising, a little bit of a departure, something new and intoxicating."
The Flavr Blue has performed at multiple major music festivals such as Sasquatch, South by Southwest and School Night in New York City and Los Angeles.
"Performing is what we all really love to do," Wong-Wear said. "We all are pretty different people but I think that we are formed through our love of performance and showmanship. It's the best feeling in the world. This is a great execution of my work and I'm excited to share it."
Wong-Wear is also known for her work on "White Walls" with Seattle artists Macklemore and Ryan Lewis. Even though being in such a bright spotlight could be tough for some artists to get their head straight, that wasn't the case for her.
"Working with Macklemore, Ryan Lewis, and Schoolboy Q was a great opportunity and something that I didn't necessarily anticipate," she said. "But I actually really enjoyed the fact that I did have Flavr Blue to go back to because at the end of the day, musical exploration, experimentation and collaboration are what drive me as an artist."
The Flavr Blue has earned a lot of support from the radio such as KCRW and Sirius XM Chill. The group recently released its remix of its single, "We Can Go Blind," with Icelandic group Steed Lord.
On Thursday, Nov. 20, The Flavr Blue will play its first San Diego show at The Merrow. The unique trio's fresh dance music is an unforgettable live experience worth checking out.