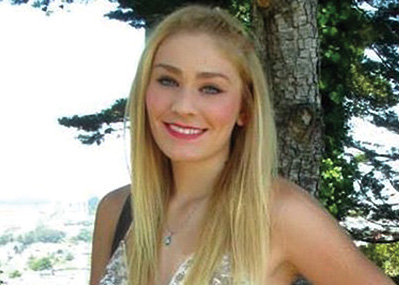 Melissa Kennon was admitted into the hospital early Friday morning on Nov. 7 and in a few hours, she succumbed to her injuries. At the age of 19, she tripped and fell five stories after going onto the roof of a nearby apartment complex to look at the stars.
Melissa, like Sara Stelzer, who died four weeks ago from meningococcal meningitis, was a member of Kappa Delta.
The sorority was just beginning to mend the holes the loss of one sister left when the news of Melissa's death shocked and sadded members once more.
Members remember Sara as an incredible woman with a loveable, quicky outlook on life. She strived to live her life to the fullest and never wanted to miss out on anything. She certainly left a mark on each and every member of Kappa Delta and I am so blessed to be able to forever call her my sister.
The following memories come from Kappa Delta sisters.
"Melissa went to my high school, and even though she was a year younger and it may have seemed as though I didn't notice her, I definitely did. I thought our friendship ended at St. Francis, but then a beautiful miracle happened and she became my sister in Kappa Delta, and I got to know her so much better. In high school Melissa was a shy wallflower, but in college I think she found her place in Kappa Delta and everyone got to see just how amazing she is. Never in my life have I felt so confused, angry, upset and numb. My heart aches more than ever, but when I think of how she is up there with Sara, it lessens the hurt I feel. That's the silver lining, and the light in this dark time."
–Aerospace engineering junior Kelly Reid
"Melissa had such a striking presence. She was both an amazing listener and observer, but when she entered a room everyone noticed. She had an incredibly kind and adventurous heart. Melissa saw all that life had to offer and couldn't bare the thought of missing out on anything. She always had a good idea of what she wanted and she would not let anything stop her — that's probably what I'll miss the most about her."
–Journalism sophomore Alexis Evans-Bendel
"Melissa was the type of person the world needs more of. She was a completely genuine, free-spirit who inspired everyone around her to be happier and to live life to the fullest. She was a loyal friend, a compassionate human being, and a beautiful sister who will surely be missed and never forgotten."
– Pre-nursing sophomore Molly Niemuth
Rest in paradise, Melissa. You will be missed by all.