SDSU's rent increase on KB Books worries owner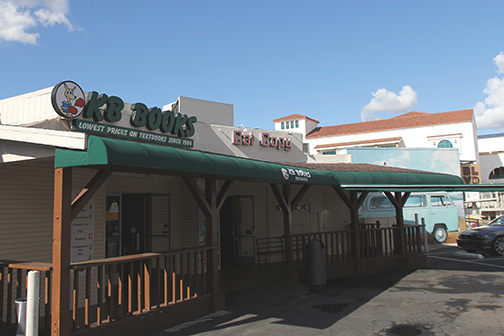 The terms of a recent one-year lease extension between Aztec Shops and KB Books has caused the owner of the bookstore to believe it is an effort by Aztec Shops to put KB Books out of business.
The off-campus bookstore owner, Ken Appel, finds the length of the new lease, as well as a 32 percent rent increase included, to be worrisome.
"Our future is very uncertain," Appel said. "My belief is that they will either try to not resign the lease or continue to make these outrageous (rent) increases to the point where it just becomes unfeasible to operate."
R.D. Williams, director of Business Development and Contract Housing for Aztec shops, said KB Books had been paying "substantially below" market rate, which Aztec Shops considers to be $3.25 to $3.75 per square foot.
KB Books paid $11,948 before its September lease extension. At 4,519 square feet, KB Books pays a monthly base rent of $15,816.50, which is approximately $3.50 per square foot. The rent is now aligned to be within the rent range of other tenants Aztec Shops leases to, WIlliams said.
He said the base rent is determined though a square foot basis to evaluate whether it fits the market rate.
As approved by Aztec Shops, Cal Copy subleases from KB Books for approximately $3.33 per square foot, and Blvd. 63 for approximately $3.52 per square foot.
Appel said the one-year lease makes it difficult to invest in the bookstore because of the possibility Aztec Shops could decide to not resign a contract extension.
"(Aztec Shops') mission is always to make sure we are getting market rate from the tenants so that those funds go back to support the university," Williams said.
The length of the extension is the result of plans for possible construction of phase two of South Campus Plaza. The first phase recently broke ground and includes housing above street-level retail stores and restaurants. The second phase would include property along College Avenue, from KB Books to the Arco gas station.
"We've been very clear that because of the long-range possible plans for that area, we are not extending any leases beyond one year," Williams said. "So when the KB Books lease came up, we offered to extend the lease on a year-by-year basis until we know what is going to happen to the property."
Williams and University Architect Bob Schulz said the second phase of South Campus Plaza is on hold until the university acquires additional space that it doesn't own, such as the gas station and Jack in the Box property.
"The university would like to acquire all the parcels but we will only deal with willing sellers," Williams said. "We're not going to try to take anyone's property."
Williams said it is not uncommon to plan construction on property that is not yet owned by an entity because it is often done all at once in a master plan.
In June 2012, Aztec Shops bought the KB Books property from a private owner for $3 million in cash from working capital reserves, which refers to money collected over time.
"Anytime a piece of property like that comes up, we want to do our best effort to purchase it for the university to hold for the future development of South Campus Plaza or some other development," Williams said.
Aztec Shops manages property the SDSU Research Foundation owns on College Square and the property adjacent to KB Books, including Bruxie and Bangkok Poco The Restaurant. Aztec Shops also recently took ownership of Albert's College Apartments, Fraternity Row and Piedra Del Sol.
A lease among competitors
"I'm in the very awkward position of leasing from my competitor," Appel said. "So that has made it very worrisome."
Williams said the relationship between KB Books and Aztec Shops, which operates the SDSU Bookstore, is "uncommon but not a conflict of interest."
Aztec Shops receives approximately 40 percent of sales from the SDSU Bookstore from items such as apparel and books.
Two years ago Aztec Shops, along with other solicitors, was banned from handing out fliers at the bridge between Parking Structure 4 and West Commons during freshman orientation. Last year, the bookstore was banned from being at the orientation.
Williams said soliciting was banned because of crowding concerns.
Appel said it would be difficult to relocate KB Books, which has been at SDSU since 1986 and in its current location since 1991.
"It's a very location-sensitive business," Appel said.
He believes students benefit from the competition between the SDSU Bookstore and KB Books.
"If  you buy on campus, you're still benefiting from the fact that they have to earn your business because if they don't, you're going to go somewhere else," Appel said.
Last September, with a year until the previous lease ended, Appel contacted Aztec Shops' Contracts Administrator Debbie Burchianti to discuss a renewal, but he was told Aztec Shops was not ready to make a decision regarding the contact. In October he emailed Williams for the same matter, but he did not receive a response. In late November, after a "campaign" informing the SDSU community of Aztec Shops unwillingness to discuss an extension, Burchianti emailed Appel to set up a meeting to discuss a lease extension, Appel said.
Appel spoke at an Aztec Shops Board meeting during public comments and met with Burchianti in early December to discuss an extension.
"Since (Aztec Shops) operate(s) like a monopoly, without paying rent, income tax or property tax, they have the ability and the resources to bully small business which they compete with, giving them an even further unfair advantage," Appel said.
Meanwhile, Williams said KB Books is treated like any other tenant.
"We want to maximize the return on our investment without jeopardizing (our tenants') business," he said.
Aztec Shops returns approximately $350,000 to the university's resource allocation committee, which distributes money to SDSU's colleges and programs, Williams said. The auxiliary also contributes approximately $500,000 yearly to support the university's infrastructure and maintenance
Williams said he doesn't foresee a reason Aztec Shops wouldn't resign the lease. He said Aztec Shops typically discusses extensions six months before a lease ends.