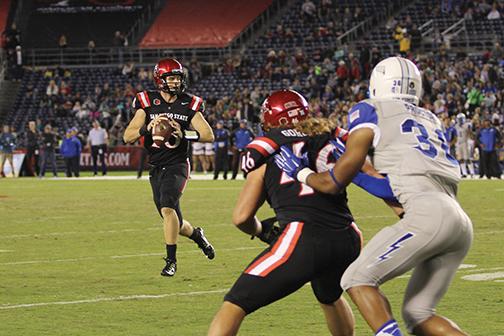 It has been a season of ups and downs for the San Diego State Aztecs' senior quarterback. But on Friday night, Quinn Kaehler put the team's offense on his shoulders and played his best game of the year.
It was good timing, too. The Aztecs were in a must-win situation against Mountain West rival Air Force Academy to become bowl-eligible for a fifth straight year.
Kaehler looked as good against the Falcons as he has all season. He completed 17 of 30 pass attempts for 326 yards with one touchdown and one interception, repeatedly finding success down the field on deep post routes.
Of course it helped to have a couple of dynamic playmaking receivers in senior Ezell Ruffin and sophomore Lloyd Mills, who each had spectacular catches on passes which would've otherwise been incomplete or intercepted.
Head Coach Rocky Long said after the game he was impressed with Kaehler's performance but also recognized his playmakers bailed him out a couple times.
"I thought he played pretty well," Long said. "There (were) a couple of receivers that went up and made Quinn (Kaehler) look good. Quarterbcks look better when their receivers make them look better." 
At times, yes — good wide receivers can make the difference on a quarterback's stat sheet. Ruffin caught a pass in the third quarter that was thrown low and behind him, but he showed extreme concentration by not only keeping the Falcons' defender away from the ball but caught it with one hand. It was a huge 25-yard pickup.
"I mean, you know, just make plays," Ruffin said about the catch after the game with a big smile on his face.
No kidding, man. Make no mistake — this catch was SportsCenter Top-10 material, folks.
Mills made a catch early in the second quarter that will likely go criminally underappreciated this week, bringing down a speedy pass from Kaehler in tight double coverage for another big gain.
But Kaehler zipping the football into tight spaces has nothing to do with the stellar play of his receivers. Too many times this season have we watched him throw floaters that have had a 50-50 chance of being caught or intercepted. This wasn't the case against Air Force, as Kaehler looked confident behind a solid offensive line that only gave up one sack. His poise and arm strength were key factors in leading the Aztecs to a crucial victory against a good Falcons team.
The normal formula for an Aztec win is simple: Run the ball with running backs Donnel Pumphrey and Chase Price, and then do it again. And again. And probably one more time for good measure.
Well, the Falcons came into the game with a solid plan to shut down the Aztecs' ground game. At halftime, SDSU's dynamic backfield duo was held to 65 total yards. But Kaehler had already posted 218 yards and a touchdown by then, and had moved the offense down the field multiple times with ease.
Kaehler's passes had the Falcons on their heels while they were focusing on stopping the run. The Aztecs had to swap their typical formula for a more vertical approach, and it worked all game long.
"But, Ethan," you say. "Didn't he throw an interception?"
Ah, yes, the interception. While it wasn't one of Kaehler's best decisions of the night (he threw into tight double coverage in the end zone) it wasn't a backbreaking mistake, either. Turnovers aren't good and Kaehler has had too many this season, but I'm letting this one slide. First of all it was in the first quarter, so it wasn't one of those opposing-team-game-winner types of interceptions. Second — and I can't believe I'm about to say this — offensive coordinator Bob Toledo was right to try and take a shot to the end zone. The Aztecs' running game was stale at this point in the contest and the Falcons' defenders visibly had their hands full with the SDSU receivers.
Don't get too comfy though, Bobby — we still have to win one more regular season game.
It was nice to see Kaehler come back with a strong performance in a crucial game at home. It was also nice to see the Aztecs' offense find success without relying on its running backs.
Let's hope Kaehler and company can do it one more time next week as the Aztecs close out the season at home against the California State University, San Jose Spartans.