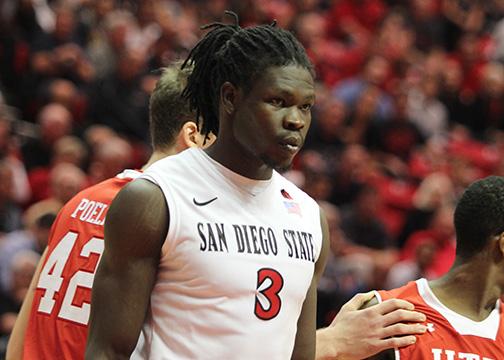 The San Diego State Aztecs (5-1) finished the 2014 EA SPORTS Maui Invitational on a low note when they lost 61-59 in the championship game to the University of Arizona (6-0). SDSU has now lost its last four games against the Wildcats.
"We wanted to win," head coach Steve Fisher said after the game. "We thought we were going to win. We knew we could win, but we didn't win."
In the end, the Aztecs stepped on their own feet and let the opportunity to top their "Best in the West" rival slip through their fingers.
"We've just got to continue to get better," junior forward Winston Shepard said. "Continue to be aggressive. Arizona is a good team, and you've got to give them a lot of credit. We'll take this as a learning experience."
The Aztecs shot 54 percent from the free throw line, clanking nine of 24 free throws while Arizona went 20-24 from the line. The Aztecs also floundered offensively late in the game, knocking down only one shot during the last nine minutes before freshman guard Trey Kell and Shepard made two desperation 3-pointers.
SDSU trailed 61-59 with 0.9 seconds left after Shepard knocked down his downtown desperation bucket, but it was too little too late. Arizona successfully inbounded the ball to sophomore forward Rondae Hollis-Jefferson to seal the victory.
Kell and Shepard looked impressive throughout the Maui Invitational, finishing with 43 points and 45 points, respectively. Shepard opened the tournament with a big-time 18-point, eight-rebound performance in SDSU's 92-87 double-overtime victory against Brigham Young University. Kell scored SDSU's first six points against the University of Pittsburgh and his 15 points led the Aztecs to their 74-57 semifinal victory.
Both players earned spots on the all-tournament team. SDSU and Arizona were the only tournament teams to have two players recognized with all-tournament honors.
After shooting 28 percent in two games before heading to Maui, SDSU led all tournament teams with its 50-percent field goal percentage. SDSU also boasted the lowest opponent field goal percentage of the tournament at 37.7 percent.
"We played some quality teams out here, so that definitely made us better," senior forward J.J. O'Brien said. "We went through a double overtime win just to start it … We played a good team tonight, and played a good team last night. So we've proven something to ourselves a little bit, and we can move forward with that.
Arizona, the tournament champion, ranked fifth and third in those two categories. But guess where it ranked first? Free-throw percentage.
Where did SDSU rank in free-throw percentage? Dead last — by about 5 percent.
SDSU next plays Dec. 4 against crosstown rival University of San Diego at 8 p.m. Student tickets will be available starting at 10 a.m. on Monday, Dec. 1.
Read about the Aztecs' double-overtime victory against BYU here.