Stone Brewing Co. rocks the craft beer market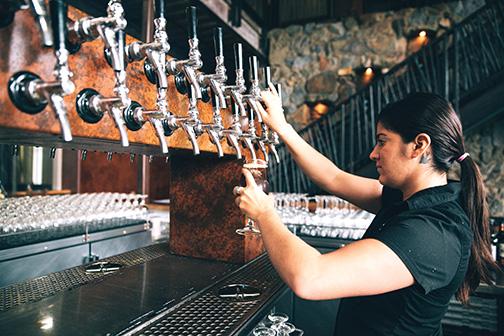 In 1996, a "talented home brewer" and a business owner came together to create the Stone Brewing Co. during a time when less than a dozen breweries populated the San Diego area.
From gargoyles and cheeky brew titles to fierce commitment, sustainability and success, co-founders Greg Koch and Steve Wagner have created an internationally recognized brewery.
Stone Brewing Co. seeks to "do everything for somebody rather than something for everybody," Minister of Evangelism and Indoctrination at Stone Brewing Co. Ken Wright said.
Koch and Wagner met when Wagner, a guitarist, was rehearsing with his band at a studio Koch owned. They then reconnected during a beer course hosted by the University of California, Davis. The two bonded over their shared love of beer, and Stone Brewing Co. came shortly after.
The two founders initially had trouble selling the "hoppy" brew because of its bitter, unfamiliar taste. But in July 1996, their first keg of Stone Pale Ale was sold, according to the brewery's website.
Despite a somewhat rough start, the brewery has since grown appreciatively and moved from its original headquarters in San Marcos to its current location in Escondido.
Stone Brewing Co. has company stores located throughout San Diego, including locations in South Park, Oceanside and Pasadena. There are even Stone Brewing World Bistro and Gardens locations at its headquarters and Liberty Station.
The brewery has also gained ownership of Stone Farms, a farming property located in Escondido, after the struggling organic farm was unable to sustain profits. Wright said Stone Brewing Co. employs seven people who tend to the 19-acre farm.
The organic used for the Stone Brewing World Bistro and Gardens at the brewery's headquarters is also sold at Stone Farms, along with brewery merchandise.
One thing you won't find at any of the bistro locations is Ketchup, a food condiment Wright said co-founder Koch simply despises.
"He's not a normal human being by any stretch of reality," Wright said of Koch's quirks. "He suffers from self-described unrealistic optimism."
But Wright also said this is what he believes makes the brewery the immense success it is.
The brewery is the biggest within the area and as such, the co-founders have maintained a strict commitment to sustainability through its sustainable food movement and conservation measures.
Solar panels are installed on the roof of the headquarters and the brewery also adopted a water reclamation program during its 2005 relocation to Escondido.
"Breweries are required by law to treat their water before discharging it," Wright said. "But we've taken it one step beyond that where we've treated our water to the point that we're actually plugging in quite a bit of reclaimed water back into our system as a conservation measure. We've dramatically reduced our water usage. It's definitely well below the average of most breweries."
Wright said the overarching focus for Stone Brewing Co. is staying true to its values.
"We've got a very robust culture and I think that's what sets us apart," Wright said. "We don't just make beer, we also espouse this culture of doing your own thing, coloring outside the lines."
Wright said the gargoyle, often mistaken for a demon, has been associated with breweries since medieval times when brewers saw the fermentation process as a divine action. As such, gargoyles were used to ward off evil, including devils, demons and anything else that could disrupt the heavenly process.
For Stone Brewing Co., Wright said the icon serves to "ward off mediocrity … and it looks pretty bada-s."
Stone Brewing Co. will soon be the first United States craft brewery to own and operate a brewery in Europe. Plans for the brewery were announced earlier this year. Wright said he believes the brewery will be up and running in late 2015 or early 2016.
This article has been updated to reflect a more precise estimate of the opening of Stone Brewing Co.'s European-based brewery.