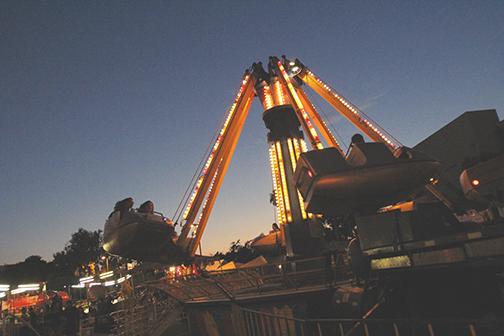 It's once again that time of year when students return to campus to conquer the second leg of the 2014-2015 school year. After a long break spent back at home with family or even traveling abroad, the harsh chore of picking up textbooks and listening about the syllabus can be a tough change. Luckily for SDSU students, Associated Students aims to help those who find it difficult to transition back to academia from the carefree ways of winter break by presenting another exciting week of Aztec Nights activities. This year's activities range from a Winter Wonderland complete with a DJ and photo booth to a chocolate buffet and chance to take pictures with the men's basketball team. Students are invited to take part in all activities that last each night from 10 p.m. – 2 a.m. and can bring one guest with each valid Red ID.
Winter Wonderland
10 p.m. – 2 a.m., Friday Jan. 23
Campanile Walkway
The wonders of winter are brought to sunny San Diego and carry over to the Spring semester when Associated Students presents Winter Wonderland. This festive night includes popular music, real snow, delicious s'mores and a range of other activities. There will be a DJ, photo booth and winter-themed treats as well as snowboard simulator where students can show off their snowboarding skills. 
Barn Yard Bash
10 p.m. – 2 a.m., Saturday Jan. 24
Conrad Prebys Aztec Student Union Courtyard
Put on your cowboy boots and button up that flannel! Aztec Nights Barn Yard Bash is a country themed get-down with line dancing, carnival games and of course an thrilling mechanical bull. Country music's biggest hits will be playing all night for guests to enjoy and fair themed food will be provided. All these elements come together to create a night of good ole country fun.
Movie Night in Chocolate Paradise
10 p.m. – 2 a.m., Friday Jan. 30
Union Theatre/Montezuma Hall
Bring your coziest of blankets and pillows to the Conrad Prebys Aztec Student Union for this late night double feature. Associated Students will be showing both "Frozen" and "The Hunger Games: Mockingjay (Part 1)" as well as providing a chocolate buffet for moviegoers. The buffet will boast a collection of chocolate truffles, cake pops and a chocolate dipping station as well as other treats. These movies and delicious delicacies are a must for anyone looking to get their mind off the rush of the first week back to school.
Welcome Back Madness
10 p.m. – 2 p.m., Saturday Jan. 31
Montezuma Hall
Start off your second semester with a bang at this annual welcome-back party. Students can enjoy live music performances, free food, a laser battle, dance party, sport inflatables, mechanical bull and the chance to hop in the photo booth with the Aztec men's basketball team.