SDSU stifled by Colorado State defense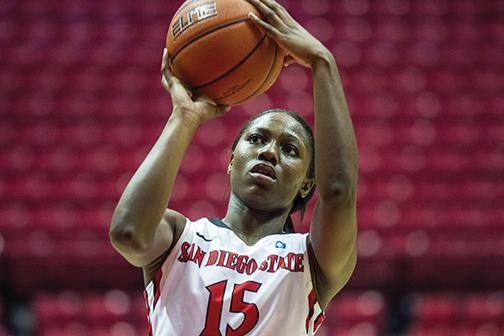 The San Diego State women's basketball team was on the bad end of a defensive battle Saturday afternoon, falling to Colorado State University 49-36 in Viejas Arena.
In what has been a recent trend in Aztec losses, this game was a tale of two halves.
SDSU's defense shined in the first half, holding CSU to only 22 points on 33.3-percent shooting, and more importantly, holding them to 3-14 shooting from beyond the arc. However, in the second half it was the Rams' offense that stole the show as they scored 27 points in a span of 11 minutes, 46 seconds at a clip of 45.8 percent.
But as mentioned, this game was between defenses and it just so happens that Colorado State has one of the nation's best, coming into the match ranked 20th in the country in opponents' field-goal percentage at 34.9 percent and 42nd in scoring defense with 56.9 points allowed per game.
Those stats were buffed after this game as the Rams held the Aztecs shooters to 29.8 percent from the field. CSU (14-4, 6-1 MW) also held SDSU (6-12, 3-4 MW) to its lowest scoring performance, 36, on the season by implementing a 2-3 zone for the majority of the game.
"They exposed us," Aztec head coach Stacie Terry said. "They were a very good team defensively to take away our strengths."
Even though there was 40 minutes of action, this game in reality was decided in only 10 minutes. Both teams made runs during the span, but in the end the Rams had too much firepower for the Aztecs to overcome.
With a little more than five minutes to play in the first half, the Aztecs faced a 17-6 deficit and went on a 11-0 run, on 5-6 shooting, to tie the game. Freshman point guard McKynzie Fort sparked the run with a short jumper outside the restricted zone, followed by redshirt-junior forward Erimma Amarikwa's layup. Fort converted two more field goals, with senior forward Chairese Culberson splitting her younger teammates' successful attempts by hitting SDSU's only 3-pointer of the game.
With the momentum clearly in favor of the Aztecs, CSU head coach Ryun Williams took a quick timeout that effectively changed the outlook of the game. In the final minute and a half, Rams' junior forward Alana Arias went on her own 5-0 run that pushed CSU's lead to 22-17.
"I felt like we were ready and we were prepared for (the second half)," Fort said. "I think we just started off slow."
The Aztecs missed their first eight shots to start the second half and saw the Rams go on a 15-3 run, hitting their first five shots and going 6-8 over that span, pushing the lead to 37-21. Disheartened, SDSU was never able to mount a comeback, even though CSU's final point came with 8:14 left on the clock.
"We didn't make baskets, our defense should have won this game," Terry said. "It was a good enough defensive effort for us to be competitive and we just didn't make shots. They took away our low post game and forced us into jumpers and that is why we lost."
With her ever-growing role Fort started her seventh straight game and was the lone bright spot for an otherwise dismal offensive effort by SDSU. She shot 5-7 from the field for a team-high 12 points, while also bringing down four boards and lassoing in two steals.
Up next for the Aztecs is a road trip to Fresno where they take on the 15-3 Bulldogs who are currently 7-0 in conference play. Tipoff is at 7 p.m. on Wednesday, Jan. 28.