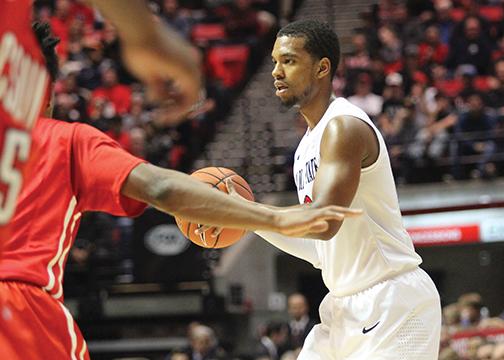 Last time Steve Fisher and company duked it out against California State University, Fresno, three things happened.
One: the Bulldogs outscored the Aztecs 34-19 in the first half and handed them their first conference loss.
Two: SDSU's in-state winning streak of 47 games reverted back to zero games.
Three: the Aztecs didn't receive any votes to be in the Associated Press top 25 for the first time since Nov. 2013.
Now, three weeks later, these teams sit tied for second in the Mountain West with a 5-2 conference record.
San Diego State has gone 4-1 since its big-time loss in Fresno, beating the University of Wyoming in Laramie but losing a 79-73 heart-breaker at Colorado State University on Saturday night.
Fresno State has also gone 4-1 in the last three weeks, with its only loss coming in a three-overtime battle at home against Wyoming.
The two meet for the second and final time Tuesday night at Viejas Arena, and Aqeel Quinn says the loss in Fresno will still be fresh in the team's head come tip-off.
"Any time you lose a tough game like that, I think it sticks with you," Quinn said before the University of New Mexico game. "When Fresno State comes back here, that game is for sure going to stick with us."
Defensive key to the game
Bulldog junior guard Marvelle Harris has thrown his name into the MW Player of the Year conversation, averaging just more than 20 points in his last five games, including a video-game-like 40-point performance at University of Nevada, Reno.
He was the catalyst for Fresno State against SDSU in early January, and Quinn will be tasked with preventing him to do so again.
Quinn has proven his skills as a perimeter defender this season, namely holding NCAA-player-of-the-year candidate Delon Wright to just seven points on 2-13 shooting in SDSU's second game of the year.
But Harris put 25 up on the Aztec guard in their first head-to-head matchup. You can bet Quinn will do everything in his power to keep that from happening again.
Offensive key to the game
Freshman forward Malik Pope showed us all why he was a five-star recruit coming out of high school Saturday night.
Twenty-two points.
Nine-of-11 shooting.
Seven rebounds.
Twenty-eight minutes on the court.
All career highs, by the way.
SDSU truly locked in last year when senior forward Dwayne Polee II found his rhythm and became a dominant sixth man full of energy and oodles of talent.
We saw something very similar to that in Pope's performance. If the freshman can do the same thing against the Bulldogs, SDSU should pull out a tough win and Fisher will have his new sixth man.
Student tickets are sold out for this game, but fans can still watch the game Tuesday night at 6 p.m. on CBS Sports Network.