Rams buck Aztecs in Colorado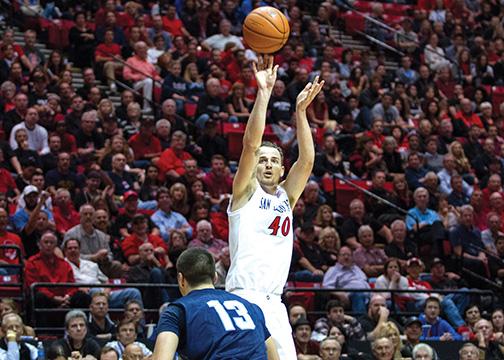 The San Diego State Aztecs fell 79-73 on the road to the Colorado State University Rams on Saturday night, snapping their four-game conference win streak. SDSU is now 15-5 on the season and its 5-2 conference record moves it into a three-way tie for second place.
Freshman forward Malik Pope and redshirt-sophomore  guard Matt Shrigley sunk back-to-back 3-pointers to cut the Rams' lead to one point with four minutes and 20 seconds to go in the second half, but the Aztecs finished the final minutes with no baskets and just one successful free throw on four attempts.
CSU set the tone early in the first half with hot shooting from senior forward J.J. Avila and senior guard Daniel Bejarano. Six of the Rams' seven made field goals to start the game came from behind the arc, and they went on to finish the first half with an 8-11 clip from deep.
"They made every shot that they took early," SDSU head coach Steve Fisher said. "And some of them it looked like they made it twice … I know they made eight out of 11 3-pointers in the first half, and when they shoot like that they are a hard team to defend."
Colorado State's 46.3-percent shooting from the field and 57.1 percent on 3-pointers are the highest shooting marks by any Aztec opponent all season, and its 79 points were the highest total in regulation given up by the Aztec defense this year.
Avila scored a game-high 29 points for the Rams on 12-16 shooting from the floor, including 2-4 on 3-pointers. Avila did most of his damage inside after making his two 3-pointers within the first four minutes of the contest.
"Avila was tremendous," Fisher said. "We have to do a better job on him. We wanted to double him when he got it in there (the paint). Sometimes, though, he got it too high up where it is hard to double. Other times we were going with a different lineup and Malik was the guy who was supposed to double, but he was hesitant to do the double while guarding (Stanton) Kidd."
Bejarano had 14 points of his own and recorded five assists.
Pope led all Aztecs with a career-high 22 points off of the bench on 9-11 shooting, including a perfect 4-4 on 3-pointers. He also pulled down a team-high seven rebounds. Shrigley set a career-high of his own with 16 points, and senior forward J.J O'Brien's 14-point performance was his best offensive output of the season.
At 5-2 in the Mountain West, SDSU sits in a three-way tie for second place with CSU and California State University, Fresno. The Aztecs will regroup and prepare for their next game at home on Tuesday against the Bulldogs, who upset the Aztecs in their first conference matchup in Fresno.