SDSU police to develop phone app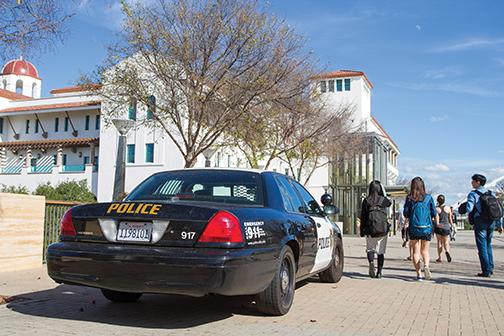 To further protect and serve students and the campus community, the San Diego State Police Department is developing a new mobile safety application that will aim to enhance the way students can communicate with the police.
The police department is working with the company 911 Cellular to create the app. Although it is still in the planning stages, SDSUPD Capt. Joshua Mays said the app, which will be free and available on all smartphones, will have a variety of functions including escort service requests, crime mapping and an emergency button and will allow users to send text message tips.
"After surveying students on campus we have found that they would rather text than talk and with the app they can report suspicious behavior by texting it in rather than calling it in," Mays said. "Students can remain anonymous and attach a photo when they text in a tip."
Mays said the app will also have geo-fencing capability, so whether students are on campus or using the app miles away, they'll be routed to a dispatch center closest to them in an emergency situation.
Civil engineering sophomore Steve Becerra said he thinks the app will be popular among students.
"I believe a lot of students would download, and use when they feel alone and vulnerable especially at night," Becerra said. "I think the escort service would be utilized greatly for those who do not want to make a far walk alone, knowing that crime is prevalent on or near campus."
SDSU isn't the first university to have a campus safety app. Schools around the country such as Case Western Reserve University, West Virginia University and Wake Forest University have already developed similar apps that open the line of communication between students and the police.
While some students may be interested in using the app, others, such as business marketing freshman Alex Purcell, feel that the app doesn't add much to the current crime prevention efforts by SDSUPD.
"Although I feel that the app would be cool and useful, I do not believe students will take the time to download it, let alone use it," Purcell said. "In my opinion the app does exactly what crime alerts already do and one can call in for an escort, so personally I am going to pass on downloading it."
The app will not replace any of the other services the SDSU police department offers. Mays said the police department hopes to release the app, which is being funded by an Aztec parent, within the next few months.