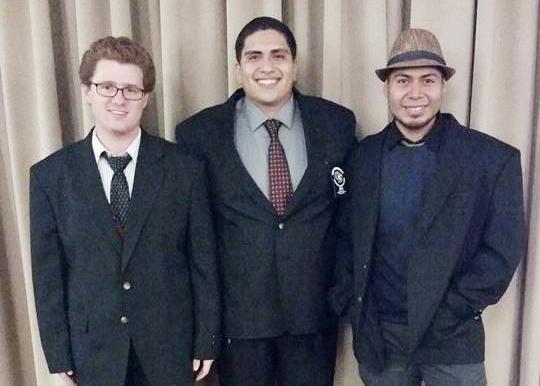 Forensics, more commonly known as the San Diego State speech and debate team, features different types of events for students of every age and experience level.
The debate side of Forensics includes three different types of debate categories: Parliamentary, Lincoln-Douglas and Policy. Each debate section has its own rules and regulations students need to follow during both the research and execution aspects of debate. Communication professor Brandon Rivera graduated from Northern Arizona University one year ago with a degree in political science and women and gender studies, then moved to SDSU where he has been coaching debate and teaching for the communication department since. Out of all of the debate sections that Rivera coaches, parliamentary is what he enjoys the most, as he has 11 years of experience in that particular section.
"Parliamentary debate best matches my own personality and debate style," Rivera said.
The most recent competition Forensics competed in was Jan. 31- Feb. 1, the debate team in Long Beach and the speech team in Point Loma. Currently, the debate section of Forensics has six people actively competing. Other members are just starting out and learning the skills of debate. The students that are more comfortable, have a higher level of experience, and are contributing the most hours of research are the students that actively compete in the majority of competitions.
The competition usually consists of one or two people per team debating over a specific topic. Within the debate sections of Forensics, there are higher levels of interaction — not only between the affirmative and negative sides, but also between individuals on the same team. Debate is all about constructing sensible arguments in a pinch.
"Students are placed in a particular debate section based on what section will be the most beneficial to the student and their qualifications," Rivera said. "Debates are important both in the social to academic sense, as no two topics are the same."
Throughout the years, SDSU students have transferred from other schools just for the speech and debate program. It is currently highly ranked and seems to be more on the rise than ever before. Large portions of students have won awards both regionally and nationally. The Forensics coaching staff of five has a huge collection of knowledge and experience as most coaches were formally competitors during their undergrad.
"I believe that this semesters current team may be the best that SDSU has ever had in their history," Rivera said. "At this current time SDSU is ranked 41st out of a total of 500 teams from other schools for debate nationally, and after our last tournament, I think we will be at a higher ranking then ever."
Similar to the debate program, the speech program at SDSU contains more than one category, including impromptu, informative, persuasive and oral interpretation, which includes poetry and dramatic monologues and the extemporaneous section. Communication Professor Brianna Quintero, one of the speech coaches at SDSU, prefers the oral interpretation category as that was the section she formally competed in when she was an undergrad.
Quintero was a transfer student to San Francisco State University. She received a degree in communications as in addition to studying a large amount of performance studies and organizational communication. Quintero has taught in the communications department and coached the speech section of Forensics for two years.
Quintero said her favorite speech topic concerned the experience of transgender individuals.
"The speech was done for the student to understand the concept of transformative topics as well as to eliminate bias," Quintero said. "As long as you can tell a good argument and help us learn something new, that's important. Each category has its strengths and weaknesses."
The speech program has a local tournament on Feb. 7 in Point Loma. Many students do both speech and debate and last semester there were around 30 students total on the Forensics team.
"Most students come in not knowing what they'd like to compete in, and as coaches we have them try both speech and debate because they either love one or hate one," Quintero said. "But sometimes it's easy to figure out which one students belong in. Usually, if someone comes in as a political science major, they have a higher inclination for debate, but there are some overlaps."
Quintero believes that impromptu speeches are the most useful and have the greatest real-life application.
"You don't always have time to translate your thoughts and ideas onto paper," Quintero said.
In the speech sections, everything is an individual process. If a student enjoys working solo and on both presentation and content, that student is usually more inclined to the speech section. The speech side of competitions are called individual events and are judged as such.
"With speech, I like helping students become better speakers, as well as help them to learn to be critical thinkers in the sense of speaking and being able to write an argument and take apart literature," Quintero said. "The biggest payoff for me is watching someone become a better speaker and gain more confidence."
During the competition, students receive critiques and constructive criticism from the judges. Every round participants are graded on a scale dependent on the other number of students in the competition. If a student receives the highest rankings of that round they move on to compete in the elimination round. The coaches from each participating school formally judge the students in these competitions. For Quintero, the most nerve-wracking part about speech is, "not knowing what the judge is thinking for one, and two for some events they're time based, and you're not aloud to time yourself."
Any student that wants to be a part of Forensics can participate. There are no tryouts because there is a niche for everyone based on their strong suits.
"Not everyone knows what it is, or what we are as a group," Quintero said. "I would say said that the speech and debate program has a spot for everyone."