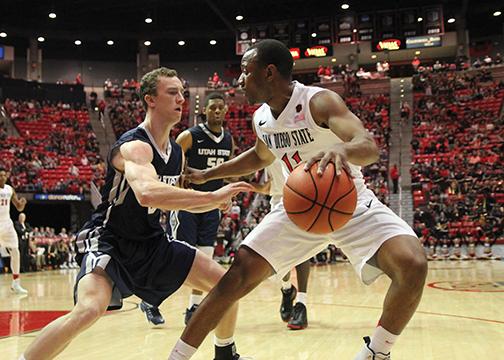 Before reading this quote, consider all the different defensive juggernaut teams Steve Fisher has led during his tenure as San Diego State's head coach.
Got it? Thinking about Xavier Thames and Josh Davis locking down the perimeter and interior last year? About Kawhi Leonard, Malcolm Thomas and the legendary 2010-11 squad?
OK, good.
"This is as good of a defense we've seen since we've been here," Fisher said. "Tonight was a classic example," Fisher said after his team beat the Utah State University Aggies (12-9, 5-4 Mountain West) 62-42 on Saturday.
High praise, and the Aztecs (17-5, 7-2 MW) backed it up.
SDSU forced the Aggies, who averaged about 10 turnovers before Saturday, into 19 turnovers, which the Aztecs converted to 15 points.
SDSU limited Utah State to a 29.2 field-goal percentage — about 15 percent less than its season average before walking into Viejas Arena.
Continued offensive struggles (11 turnovers and 21 points on 33.3-percent shooting) overshadowed the first-half defensive performance, but Fisher chose to stay calm with his team at halftime and focus on the positives.
"What I said tonight (at halftime) was that I've never seen you play better defensively," Fisher said. "You took a team that runs set plays to perfection and you made them play scramble ball which is what we wanted them to do."
"Coach (Steve) Fisher wasn't steaming today. Turnovers started with me," senior guard Aqeel Quinn said. "We came in the locker room and we talked about the turnovers and said we wanted to keep it down to one or two turnovers … our defense was solid tonight so that's all we can lean our head on."
The Aztecs maintained their Fisher-esque defense in the second half, but they also flipped the offense switch to "on." SDSU scored 41 points on 51.6 percent shooting while allowing 28 points on 29.6 percent shooting.
SDSU sucked the wind out of Utah State's gut in a six-minute stretch early in the second half. Senior forward J.J. O'Brien missed a turnaround jumper with 16:49 left, but he grabbed his own miss and dished it to redshirt-sophomore Matt Shrigley for a successful corner 3-pointer.
Three minutes later, freshman forward Malik Pope grabbed another offensive board and put it in to give SDSU a 37-16 lead with 12:40 left.
Utah State junior guard Chris Smith nailed a jumper on the next possession, ending SDSU's 14-0 scoring run.
But Pope permanently snatched back the momentum with five straight points: a corner 3-pointer and a lob-city alley-oop from freshman guard Trey Kell that culminated SDSU's 21-4 scoring run the start the half.
Pope finished with 13 points on 5-9 shooting, four rebounds and a lot of something that can't be measured by stats: energy and excitement.
"Malik (Pope) has a certain aura about himself when he gets out on the floor," Quinn said. "He's a young cat; he's ready and full of energy. Every time he gets the ball off a rebound he's pushing it."
Quinn had himself quite night, too, leading all scorers with 15 points on 5-10 shooting.
Shrigley played 11 minutes despite having food-poisoning-like symptoms this weekend. He finished with five points and two assists.
Junior forward Skylar Spencer played his best offensive game in a while, scoring eight points on 4-5 shooting. He continued to lead the team's interior defense, blocking three shots and altering countless more.
"It was great to see Skylar (Spencer) up here smiling and excited that he did more than block shots and rebound," Fisher said. "Skylar has been a huge part of some great success at San Diego State. We know that and people that know basketball know that. Too many people want to talk about what we can't do rather than saying he is part of a terrific team and he's playing a valuable role."
SDSU next travels to play the University of Nevada, Reno (6-14, 2-6 MW) Wednesday at 7 p.m. on ESPN3.