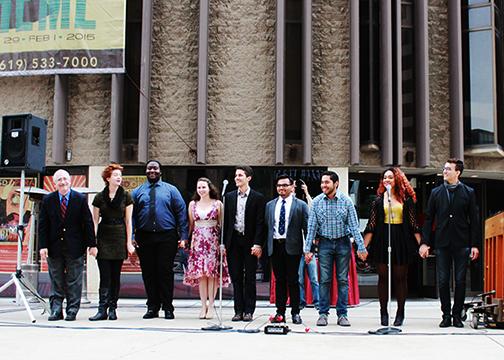 The San Diego Opera started the year off right by celebrating 50 years in existence despite last year's financial difficulties that almost shut them down. It has been nearly a year since the announcement was made last March. However, the Opera's effort to keep the arts alive and well in San Diego was shown through its numerous community-based programs such as Community Conversations and Student Night at the Opera. Since then, the overwhelming support from charitable donors, rising ticket sales and a new influx of younger Opera attendees have allowed the Opera to book productions throughout the 2015-2016 seasons.
In response to San Diego's enormous support, the Opera announced the return of Opera on the Concourse, a series of free lunchtime concerts held every Thursday following the opening of a production. Last Thursday, Jan. 29, the first Opera on the Concourse in over a decade featured the voices of the company's University Partnership program called Opera Exposed.
"Opera Exposed is a program for young singers, recent graduates and graduates of the local schools in San Diego," San Diego State vocal-arts student Amanda Olea said. "Dr. Nicolas Reveles, who is in charge of the program, gives us performance opportunities around San Diego as well as opportunities to be a part of Masterclasses. It's more than just performance opportunities; it's opportunities to learn and know more about our craft."
Last Thursday's Opera on the Concourse included students from Point Loma Nazarene University, University of San Diego and three SDSU students: Ivan Ochoa, Amanda Olea and Nicholas Newton. As the 45-minute show progressed in the midst of downtown's bustling spirit, the Civic Center Concourse was filled with more than 100 spectators listening to the beautiful narratives told by some of San Diego's most talented college-level vocal-art students.
The success of Opera Exposed can be attributed to the hard work of Dr. Nicolas Reveles, San Diego Opera director of education and community engagement, and his affiliation to the universities' faculties such as SDSU faculty member Laurinda Nikkel, coordinator of the SDSU San Diego Opera University Partnership program. Their commitment to aspiring vocal-arts students and their career goals serves to keep the classical arts around for generations to come.
The next Opera on the Concourse will take place Feb. 19 at 12 p.m. on the Civic Center Concourse or inside the Civic Theatre in case of bad weather. This next Opera on Concourse will feature the cast of "Don Giovanni," an opera following the life of libertine and seducer Giovanni, which will be played out by two blended acts of comedy and melodrama. San Diego Opera Masterclasses at SDSU are also free to attend and can be found on SDSU's School of Music and Dance event online calendar.