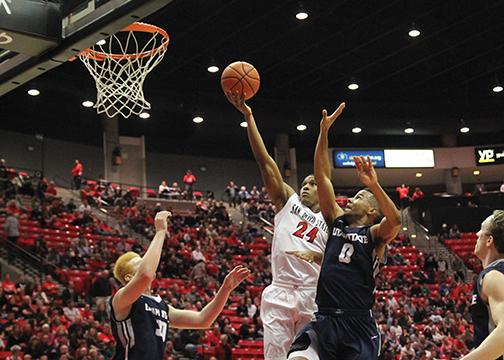 I made a preseason during an episode of "The Daily Aztec Sports Talk with Matt and Pat" that the Boise State University Broncos (15-6, 5-3 Mountain West) posed the biggest conference threat to San Diego State (17-5, 7-2 MW).
I reasoned none of the MW schools would beat SDSU at its own game (defense, defense and a tad more defense), but maybe a team that played the exact opposite way could top the Aztecs on a good night.
Well, a 59-57 loss at California State University, Fresno (10-12, 5-4 MW) proved somebody could beat SDSU at its own game, and a 79-73 loss at Colorado State University (19-3, 6-3 MW) proved Boise State wasn't the only polar opposite offense-first team that could counter SDSU's style of play.
But Boise State's high-octane offense still does pose a significant threat to an Aztec team that doesn't have the offense to erase large gaps.
The Broncos, the only team other than SDSU to receive a first-place vote in the preseason media poll, started conference season as poorly as San Jose State University (2-19, 0-9 MW) — and that's saying something.
Consecutive losses to CSU, Utah State University and University of Wyoming, and just like that Leon Rice's squad found itself scraping the bottom of the MW barrel with the Spartans.
What a difference three weeks can make, though.
An overtime win against University of Nevada, Las Vegas (13-9, 4-5 MW).
An eye-popping 10-point win at The Pit, otherwise known as WisePies Arena at University of New Mexico (14-7, 6-3 MW).
A 50-point beatdown on the Spartans.
A nine-point victory high in the sky against the Air Force Academy (9-12, 2-8 MW).
And — after trailing by 12 with 16:11 left — a season-altering 82-78 win against the Rams.
Senior guard Derrick Marks has absolutely gone off during the five-game winning streak, averaging 26.8 points, 3.2 assists and 1.8 steals per contest en route to earning his second MW Player of the Week honor this season.
Six-foot-8 sophomore forward James Webb III has more than stepped up for the Broncos after senior guard Anthony Drmic injured his ankle in the season's seventh game and was lost for the year.
The sophomore big man provides big-time energy on the boards and can score from in and outside the arc. Just in the last five games he's averaged 13.6 points, 8.4 rebounds and 2.4 steals.
Webb will battle in the paint with junior forwards Skylar Spencer and Angelo Chol, where the two Aztec bigs will own the edge. But when Webb steps to the perimeter, the Aztecs will either need to switch on defense or the bigs need to somehow expand their defensive skillset in a matter of days.
Those creating the MW schedule this year have been kind and not so kind to the Aztecs. SDSU doesn't have to travel to the notorious Dee Glen Smith Spectrum in Logan, Utah, but it does have to fly to Reno, back to San Diego and then to Boise in a four-day span. Playing a game after a traveling stretch like that isn't exactly sunshine and rainbows, especially in Taco Bell Arena, where the Broncos are 11-2 this season.
Fans can catch the game on CBS Sports Network at 3 p.m. or listen on The Mighty 1090 AM.