South Park shop owner circles back to San Diego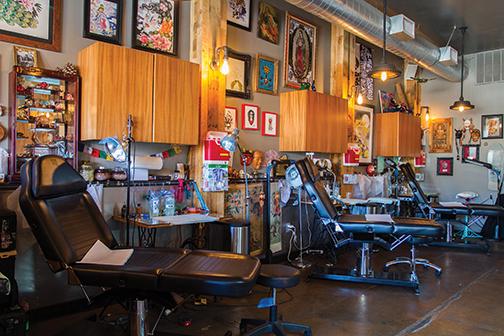 by Nick Knott, Entertainment Editor
February 12, 2015
Hang on for a minute...we're trying to find some more stories you might like.
San Diego has the ability to captivate people from all around the country and the rest of the globe. No matter where a person is from, a single visit out to America's Finest City and next thing they know, they're calling San Diego home. For tattoo artist Bill Canales, that is exactly what happened.
Canales is the owner of Full Circle Tattoo in South Park.The small shop provides for an intimate connection between tattoo artist and customer. The walls of the shop are adorned with framed pictures of intricately drawn sketches that show the high level of creativity and talent that work at Full Circle.
Canales is not originally from San Diego, but rather born in Mexico and raised in El Paso, Texas for the bulk of his life. Art has always been a skillset in Canale's repertoire. However, it was never clear how he could make his hobby a profession.
"I always drew, I was always artistic in that way," Canales said. "But I didn't know what to do with that."
Before making tattooing in San Diego his full-time job, Canales spent many years working regular jobs in El Paso not knowing that one day the artist inside him would soon shine through. However, that all changed when he picked up a tattoo magazine.
What he saw in the magazine was different than the crude and traditional tattoos he'd seen in El Paso.
"I saw this magazine and it was amazing stuff, amazing," Canales said. "I had never seen anything like it before."
After that, pure inquisition lead Canales to the path he's on today. The magazine sparked an interest in him and he pursued it.
Before Full Circle Tattoo came to be, Canales opened multiple shops of his own in El Paso. After many trials and tribulations, Canales opened Flying Panther Tattoo with a partner. Eventually Canales felt the need to step out on his own, and that's when Full Circle was born.
Canales originally opened Full Circle in Ocean Beach, but the mix of the people, lack of shop foot traffic and the overall environment was not good for business.
"OB is a total other planet," Canales said.
In 2011 Canales moved the shop to its current location at 2312 30th St. in South Park. The dynamic of the surrounding community is almost the polar opposite of the shop's last home.
"South park is great," Canales said. "It's a nice little community. It's a kind of hidden gem. You got to want to come here if you want to find it. It's unique in it's way."
Currently Full Circle hosts five resident artists other than Canales, all of which cater to different clientele with their unique styles. All the artists are focused on the same goal, providing great tattoos for every customer, and just one bad review can lead to a drop in business.
"There are so many shops out there now," Canales said. "You know, with Yelp and Facebook, if we do one wrong thing then you get one bad yelp and then customers go somewhere else."
Canales does not anticipate moving to a third location for Full Circle. He's found his spot and he and his team want to keep it that way.
"We put a lot of money into it, a lot of love into it," Canales said. "It's a pretty big investment, I want to try and stick it out as long as we can. There's not a better place i can find, you know."
Other than keeping his shop in South Park, Canales plans to be a San Diegan for the rest of his life as well.
"Hopefully I'll die here," Canales said. "Or in El Paso."