Tasty Tuesday: Embrace spicy simplicity at Café Coyote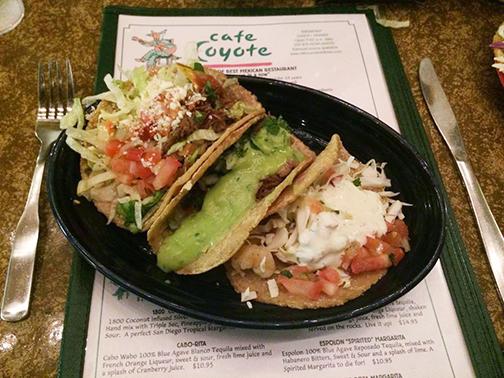 When it comes to Mexican food, I'm sold at chips and salsa. San Diego is home to hundreds of unique Mexican restaurants and after a long awaited struggle, I have finally stumbled across the best Mexican restaurant in the county.
The righteous, green building that is Café Coyote is the answer to your authentic Mexican food problems. Having been raised in a small, Hispanic town, I have tasted Mexican foods of all shapes and sizes and continually crave its spicy simplicity. After a few years of living in San Diego and sampling every Mexican restaurant I run into, I constantly find myself returning to Café Coyote.
Café Coyote is in the center of Old Town. The restaurant is always filled with color, live entertainment and a mouth-watering aroma. After 25 years of practicing their craft, the experts in the Café Coyote kitchen have definitely perfected the art of Mexican food.
With a menu loaded with tacos, burritos, nachos and enchiladas, its a little nerve-wracking to narrow it down to just one plate. Luckily, Café Coyote is two giant steps ahead and has conveniently created platters with a variety of food options to satisfy every craving, including delicious seafood options. For customers of age, Café Coyote also has an impressive drink menu that goes far beyond a simple margarita.
Having been to Café Coyote an embarrassing amount of times, I should have a favorite entree by now, but I find myself ordering a different dish each time I return to the restaurant. Depending on the time of day and company, my preference of flavor changes. However, anything containing carnitas or carne asada, topped with one of their savory salsas and guacamole, will never let you down.
The restaurant is much more than a place to eat, though. Customers can expect mariachi bands to circle the tables, taking song requests. No matter the time of day, the restaurant is always filled with customers, but fortunately enough there are three separate buildings dedicated to customers. There is also a tiny candy shop in the center aisle of the restaurant where one can find the greatest fudge in San Diego.
For those who have not had the opportunity to experience all that Old Town has to offer, I strongly recommend grabbing a bite to eat and spending the rest of the afternoon taking a tour of the historic town. There are a variety of small, local, antique shops, as well as a theater and park to explore before going home.
Although Café Coyote is not in the immediate SDSU area, it is definitely worth the small drive or short trolley ride. Also, there's also no better way to cure a food coma than walking around the landmark town with a bag full of Mexican candy.