Play matchmaker with new dating app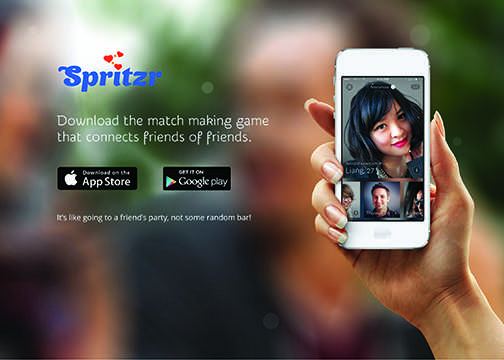 Was this another lonely Valentine's Day? San Diego State students continue to endure awkward dates and Tinder nightmares in search of that special someone, but there might be something way out there in this changing technology generation.
All the singles in San Diego may have a new saving grace for finding their other half.
Spritzr is a new, San Diego-based matchmaking app where friends play matchmaker for their friends.
The age of swiping right or left for strangers is now changed forever. Dating can now be up to the people who know you best: your friends.
"We realized friends were the missing element of dating apps" said Spritzr CEO and Founder Manshu Agarwal. "Dating apps all focused on trying to help you find the right stranger to meet. As social beings there's something fundamentally wrong with leaving friends out of the dating equation."
Users put their fate in the hands of their closest friends. The singles on the app are paired up with dates recommended by their friends. Users in a relationship can have fun while playing matchmaker and helping their friends meet that special someone. When a user sets someone up on Spritzr they earn karma points for helping their friends find good dates. It's almost like a fun, matchmaker game.
"I think it's nice to get set up with mutual friends because you are more likely to have things in common and you can use your mutual friends as buffers to hang out in a group setting," athletic training student, Candice Taggart said.
James Fowler is a professor at the University of California, San Diego, author of "Connected," and an adviser to Facebook. His work lies at the intersection of the natural and social sciences and he is considered to be one of the world's leading experts on social networks.
"Most people in healthy long term relationships originally met their partners via friends and family," Fowler said. "These real-life social networks yield higher quality partners because our friends know us best."
Spritzr found that 64 percent of relationships begin by encountering someone in their wider social circle or a friend-of-a-friend, according to Agarwal's research.
"Online dating has a ton of horror stories," Agarwal said. "The problem is that they all try and set you up with 'randos'. So of course you're going to get a lot of 'creepos'. There are a lot of friends of friends set up happy stories."
This new app might just change the way digital dating is done.
"Our friends play a key role in how we develop successful relationships," Relationship Therapist and KFMB radio host Mary Mudd Quinn said. "They can shorten the time to find that perfect match by introducing us to a few, high quality dates that share our interests and desires."