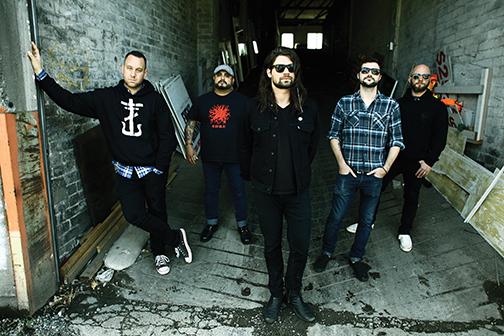 1999 was the year that marked the birth of one of the most well known alternative rock bands of the 2000s. Since then, numerous album releases, tours and frequent band member substitutions have allowed Taking Back Sunday to progress through a variety of sounds. Today, Taking Back Sunday is reunited with its original lineup including Adam Lazzara (vocals), Eddie Reyes (guitar), Mark O'Connell (drums), Shaun Cooper (bass) and John Nolan (guitar/vocals). Taking Back Sunday's current tour brings them to San Diego this Thursday Feb. 26. The band will rock the House of Blues with bands The Menzingers and letlive.
After a brief hiatus from the band, guitarist John Nolan is the returning band member to piece the full band back together.
"1999 was the year Taking Back Sunday was originally put together and it was a pretty different experience in those early days," Nolan said. "I was with them from the recording of 'Tell All Your Friends' and through its release. The whole experience including taking off, becoming kind of a giant success … It was something that I think none of us anticipated, the way that the people responded to that album and where it took the band."
A year later, the self titled album "Taking Back Sunday" was released by Warner Bro Records which has signed various big named artists like Cher, The Flaming Lips, Kimbra, Metallica, Muse, The Red Hot Chili Peppers, The Black Keys, The White Stripes, Tom Petty and the Heartbreakers, and Wu-Tang Clan to name a few.
"I came in at the end of Taking Back Sunday's experience with Warner Bros Records so I think the other guys had a different experience with them," Nolan said. "For me, I think that the label was going in a different direction with the kind of music they were focusing on and a lot of the people that had been there when the band was signed were not there anymore."
2014 brought to life Taking Back Sunday's sixth studio album titled "Happiness Is," which was released through the Los Angeles based independent label, Hopeless Records.
"For me, I think no matter what, whether you're on a major label or an independent label, the important part is having people that are genuinely excited about the record that want to get behind it and push it," Nolan said. "That's what we got from Hopeless."
That brings us to 2015; February 24th marked the release of  "Happiness Is: The Complete Recordings," which will include the original recordings from 2014 and a few unreleased tracks in a deluxe package of eight vinyl records and a signed art collectible card. Two days after the much-anticipated release, Taking Back Sunday will appear at San Diego's House of Blues in downtown on February 26. The sold out concert shows promise to bring back Taking Back Sunday's fans to remind them why they became fans in the first place.
"The way we work is so much about working off each other," Nolan said. "Everything is such a product of the way that we contribute to each other's ideas and I think no matter what we do musically, there's always that aspect of it that I think makes what we do sound like Taking Back Sunday."