Tackle your day in workout clothes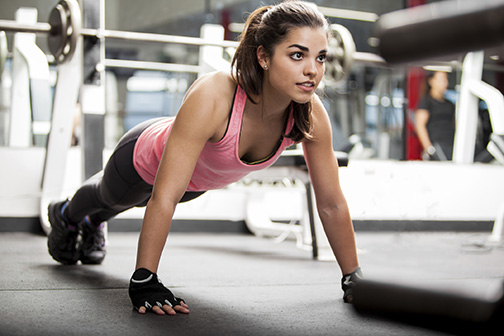 San Diego State is known for its relaxed beach vibes, great weather and accepting style. It's a good thing, too, because spandex pants, neon Nikes and gym tanks flood the campus. Wearing workout clothes to school is not only an easy trend to follow, but it's actually most students' preferred style of clothing. Being mortified of forced gym clothes at school is now a thing of the past.
"I wear workout clothes almost every day to school," nutrition senior Nadeen Saba said.  "They're really comfortable and flattering."
Saba explained that wearing workout clothes makes life easier because, as a commuter from Pacific Beach, it is one less thing she has to remember to bring. If she's already wearing her workout clothes, she's prepared to do anything without having to drive back home to change. It makes her feel more prepared.
Students aren't just rolling out of bed and moseying on over to school; they are gearing up and getting ready to tackle the day. Although getting ready in the morning may contribute to alertness and focus at school, it seems like keeping the clothes cozy is more successful. Spandex usually trumps jean.
"When I'm wearing my workout clothes, I'm less lazy," Saba said. "I'm more inclined to be active because I have nothing restraining me."
The benefits of looking like a gym rat all the time is that it might actually turn you into one. Saba said that wearing workout clothes is motivation to go and actually workout because it is a constant reminder that there is no reason not to go.
Some students already have a consistent exercise regime, which is why wearing workout clothes to school is essential for their day.
"I take the gym classes every day straight after class," finance senior Natalie Richens said. "I like to make the classes at five, so I don't have time to get my clothes, go to the locker room and change before."
Richens says that the gym is always crowded when she goes later in the day, so it helps that she comes in already dressed so she can get in line quickly. Wearing workout clothes keeps her life at her preferred pace.
Gym clothes as daily attire motivate people and get them pumped up for the day. They help maintain their healthy lifestyles and make them look good while doing it. It is convenient for people to wear them all day long, and even gives them the option to dress them up or dress them down.
"It doesn't matter if my hair or makeup is done when I'm wearing my workout clothes," business freshman Ellen Ryder said. "If I'm wearing a cute outfit, my hair and makeup would have to look good in order to pull it off."
Ryder likes the way wearing workout clothes makes it look like she's not trying too hard. It makes her life less stressful not having to worry about getting all dolled up, but she likes the option of being able to if she wants.
Active wear has become a fashion staple. It's no longer frowned upon to wear sweats or spandex in public, at least not here at SDSU. Students here accept it, if not, encourage others to tackle their days feeling convenient and comfortable.