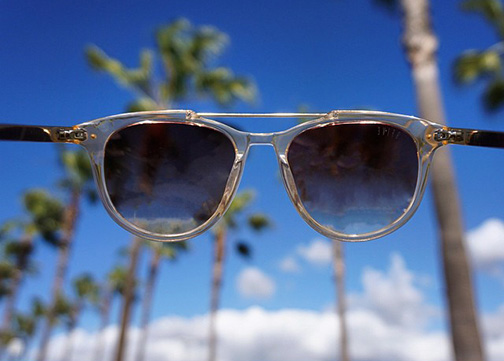 9Five Eyewear, a recently established luxury lensmaker, has become nearly ubiquitous in pop culture fashion. Celebrities such as Kendrick Lamar, 2 Chainz, Snoop Dogg, Selena Gomez and others have all been seen wearing them at one point in time. The brand has certainly found recognition recently, with its wares popping up in stores in Los Angeles, New York City, South Korea, France, and of course San Diego.
Co-creator of 9Five and San Diego State Alumnus Mike Metcalf started the company back in 2008 and catered his designs to skate culture.
"We recognized that no other brands that catered to 'action sports' … really speak to anybody here," said Metcalf.
He and his partners set out to make a brand that San Diego locals and skaters anywhere could identify with.  The spirit of 9Five can be found in its name, which references 1995 — a year the creative team sees as the golden era of skateboarding and the counter-culture that surrounded it.  This defines the brand's marketing and style.
While the 9Five is largely skater focused, with skating icons such as Karl Watson, Derrick Wilson, and Jordan Hoffart sponsored by the brand, its designs are universally liked. Sunglasses like the "Cues" series or prescription sets like the "Watson" series are sure to please nearly anybody. 9Five also offers stylish jerseys, sweaters, T-shirts, and headwear, along with collaborative works with Jordan Brand.
"They're called eyewear because they're what I wear," previous partner of 9Five Robinson Wigfall said.
Aaron Amerine, who is a co-creator and designer for 9Five, an SDSU alumnus, and a long-time friend of Metcalf saw the lack of massive competition in skater-based eyewear.
"We had nothing to lose, so we just jumped right in," Amerine said.
That's exactly what Amerine, Metcalf, and their other two partners John Craddick and Jake Cabauagan did, who were all long-time friends from the same high school and eventually studied at SDSU together.
However, there were certainly difficulties to starting the company, including the 2008 financial crisis.
"We certainly didn't expect for things to take off like they did, but (global recognition) was still a goal," Metcalf said.
Despite humble beginnings, 9Five is now fully profitable and plans to expand more and more. There are currently two dedicated locations in San Diego, another retail location fully dedicated to its eyewear opened in North Park on Feb. 22.  There are plans to open another in Chula Vista.
There's a reason why 9Five is hugely successful: the design. The team at 9Five attested that no celebrities were paid to wear their brand, they chose to wear it through their style choices alone.
There are many more possibilities for the brand in the future. Metcalf hopes to see 9Five glasses become even more ubiquitous, maybe even with merchandise stocked in Sunglass Hut stores or optometrists' offices. The company would also like to expand its demographic to include those outside the skateboarding community.