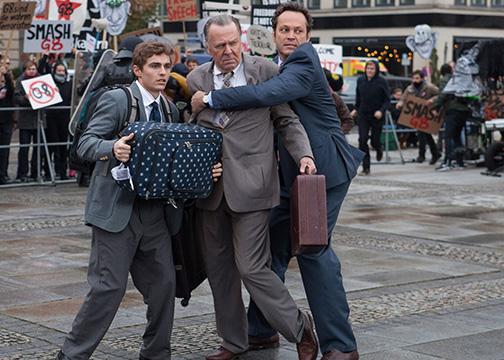 It's been a while since audiences have enjoyed an authentic Vince Vaughn movie on the big screen, but rest assured, Vaughn is back and he means business. For starters, the trailer for his new comedy, "Unfinished Business," shows scenes of boozing, partying, and debauchery reminiscent of "Old School" and "Wedding Crashers."
In "Unfinished Business" Vaughn's aspiring entrepreneurial character is joined by Dave Franco and Tom Wilkinson to land a critical business deal in Germany. What should've been a routine trip ends up completely off the rails as the group endures outrageous obstacles, most of which involve a bar or a brothel. To complicate things even more, Vaughn's team is competing with his ex-boss, played by Sienna Miller, and her company's intimidating franchise including James Marsden and Nick Frost — all of who creates a recipe for hilarity.
Vaughn, who is known for his work with buddies, Jon Favreau and Owen Wilson, said acting with Franco and Wilkinson was a lot of fun on set. He described them as sweet guys who are hilarious to work with. As for writer, Steve Conrad, and director, Ken Scott, Vaughn previously worked with them on "The Delivery Man".
In an Google Hangout group interview, the charmingly witty Vaughn said he was drawn to playing the underdog roles because he can relate to them personally.
"What I like about the movie is that these guys are in a position that they don't like in life. They are involved in a job that they are not passionate about. In a moment he pushes all in and thinks that things could be different," Vaughn said. "It makes it rootable that you have a group of guys that are in a position where the stakes are high and you are rooting for them."
Vaughn, who stars in the highly anticipated second season of  "True Detective," illustrated the mentality of taking on dramatic and comedic roles with the explanation "dying is easy, comedy is hard."
"In a drama, you have to be truthful and present and have to experience the moment," Vaughn said. "Comedy you have to do that, but you have to make people laugh, with comedy, you either make people laugh or you don't."
It may be unbeknown to most people that Vaughn actually came from a dramatic background. After his breakout role in "Swingers" the young actor gravitated to dramatic, independent films.
"Then the director wanted me for 'Old School,' but the studio didn't want me to because they didn't feel like I could do comedies," Vaughn said. "Once I did 'Old School' I went on a longer run of doing mainly comedies. For me I'm kind of returning on some level to dramas, which was the first thing I broke out with."
Vaughn said he's always been drawn to storytelling and creative things. He packed up his life and moved to California in pursuit of acting at a young age because it's what he was passionate about. He advises young people, however, that it's OK to have no clue what you want to do with your life yet.
"Don't let other people's wants or results dictate your process," Vaughn said. "Success is knowing you did the best you could at something; get engaged, read about stuff, watch stuff, be involved in what's going on around you, form your own opinions and be open to others opinions."
The reality that Vaughn brought up is not only refreshing for a college student to hear, but reflective of what kind of person he is. Underneath an eccentric personality and sardonic sense of humor is a brilliant mind full of thoughtful insight. He's the type of person you can strike a conversation with about anything, and he'll be able to teach you a lesson about it in the least condescending way possible.
On moving forward in a career, Vaughn said, "the biggest goal is to get the most out of what you do next."
"Have the best experience, grow from it, find material and people that excite you, find the sparkle. I've never had much of a plan, I just listen to myself and make sure I feel good about the choices I make"
As for Vaughn's unfinished business, he said he doesn't have any.
"I don't think there is anything that is incomplete at the moment," he said.
Audiences looking for a good laugh and a fun time are highly advised to close the deal on March 6, when "Unfinished Business" hits theaters.