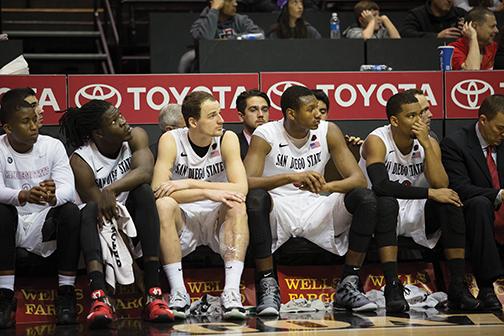 This was supposed to be a night to remember on Montezuma Mesa.
Senior forward Dwayne Polee II was supposed to make a triumphant return to his home floor with a booming Viejas Area behind him.
San Diego State (22-7, 12-4 Mountain West) was supposed to get its revenge against Boise State University (22-7, 12-4 MW) and clinch at least a share of the regular-season MW title.
But things didn't go according to plan, as the Aztecs lost 56-46.
Polee didn't play. He didn't even suit up. SDSU coaches and doctors chose to sit Polee after he got abnormal readings from a cardiac monitor implanted in his chest.
The game began well for the Aztecs, though.
Junior forward Winston Shepard tamed Boise State senior guard Derrick Marks in the first half and Steve Fisher's squad jogged to the locker room with a 24-21 halftime lead.
The top two teams in the conference traded baskets for the first few minutes of the second half, but Viejas bellowed at 110.3 decibels when redshirt-sophomore forward Matt Shrigley drained a corner 3 to break the 29-29 tie at 16:28 to go.
Shrigley then plucked the ball from Marks, and in the same possession Shepard made layup to go up 34-29 with 15:37 to go.
Once again: 110.3 decibels.
SDSU soon stretched its lead to 39-32 — its largest since 8:41 remained in the first.
But then suddenly everything grinded to a halt — for the home team, that is.
"We didn't make plays. It's as simple as that," head coach Steve Fisher said after the game.
First, senior guard Aqeel Quinn nearly air balled a jumper early in the shot clock.
Then, Boise State redshirt-senior guard Rob Heyer converted a tough and-one and Quinn sat with his fourth foul.
Shepard missed jumpers on two straight possessions.
Five-foot-9 junior guard Montigo Alford shot a deep rainbow 3 in to pull within one point, and soon sophomore forward James Webb III calmly knocked down a wide-open corner 3.
Just like that, Boise State was ahead 47-41 with six minutes to go.
The Broncos closed the last 11:12 on a 24-7 scoring run and won convincingly 56-46 in a game that saw non-student fans streaming out of Viejas before the final buzzer.
If SDSU and Boise State win their final two games, they will share the regular-season MW crown. But the Broncos will get the No. 1 seed in the MW Tournament.
Bracket projection experts like ESPN's Joe Lunardi pegged Boise State as an NCAA Tournament "bubble team" entering Saturday's tilt. With the win, Boise State will likely now sit in the more comfortable in the field of 68 in most bracket projections.
"I haven't won here before, so it means a lot to me," Marks said. "For (SDSU) to be ranked, this means we might get in the tournament."
Boise State's win also ends SDSU's 29-game home winning streak.
Shepard led SDSU with 16 points in 37 minutes. No other Aztec scored more than eight points and the team shot 33 percent for the game.
The Broncos didn't shoot much better, recording a 35-percent clip, but they out-rebounded the Aztecs 42-30 and scored 10 second-chance points.
Marks led Boise State with 18 points on 6-22 shooting, and Webb added 16 points along with 12 rebounds.
SDSU next travels to play University of Nevada, Las Vegas (16-13, 7-9 MW) Wednesday at 8 p.m.
"UNLV is a rivalry game for us, and as a competitor, I know every person in that locker room, after a loss, has a bad taste in their mouth and wants to play, maybe right now," Quinn said. "We have one coming up Wednesday, and we'll definitely be ready."