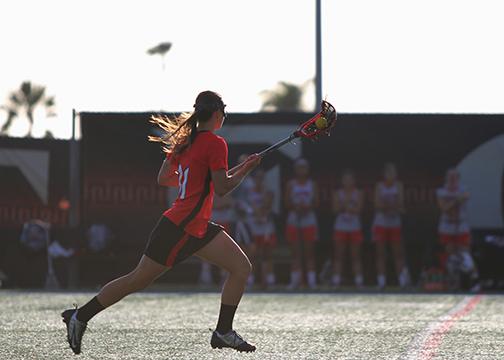 The San Diego State Aztecs started off the Mountain Pacific Sports Federation season right with an 8-7 overtime road win Saturday against the University of Oregon Ducks. It was SDSU's first win of the season, and it was the third game of a five-game road trip to open the season.
They had to fight for this opening victory. It was a very low-scoring affair, tied at 7-7 when regulation ended. At two different points, the Aztecs trailed Oregon by three goals, but came back.
The most daunting challenge came after a goal by Oregon junior attacker Courtney Valdez, putting them up 7-4 with 13:55 remaining in the contest. The Aztecs refused to let this deficit get to them, scoring four unanswered goals from then on.
Senior midfielder Christina Ricciardulli showed why she is one of the leaders on this Aztec squad, coming through in the clutch with the final two goals, including the game-winner in overtime.
Ricciardulli is starting off this year much like she played last year, when she earned all-conference second-team honors and was second on SDSU in points with 32, as well as third in goals with 28.
The Ducks took a 4-1 lead to start the contest, but the Aztecs outscored them 7-3 from there. Oregon had several opportunities in each overtime period, but just couldn't capitalize.
The Ducks had several opportunities throughout the contest, outshooting the Aztecs by a mark of 24 to 17, as well as ground balls at 19 to 14.
Coach Kylee White sees these disparities as some of the many things that she can work on with her team.
"I feel that we need to play 60 minutes in order to win in this conference," she said. "We need to work on our offensive movement and transition game."
The Aztecs next face Campbell University and California State University, Fresno this weekend. Those will be the final two road games before their home opener on March 13 against Liberty University.