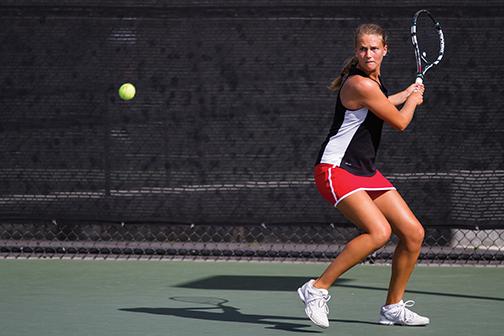 The No. 43 San Diego State Aztecs swept a much-needed two-match series in Hawaii last weekend.
Their first of two was played against Grand Canyon University on Friday. The Aztecs started out hot, sweeping the doubles matches to earn themselves the first point of the match.  The domination, much to Grand Canyon's displeasure, continued on into the singles matches.
SDSU took five of the six matches, all straight set victories. Sophomore Kennedy Davis, senior Hailey Johnson and junior Tami Nguyen all earned doubles and singles match wins, propelling the Aztecs to a 6-1 victory.
The next match was on Saturday against No. 48 University of Hawaii. Strong winds, slight rain and lots of humidity looked to slow down SDSU, but the Aztecs would not be denied.
A commanding doubles sweep, yet again, led the Aztecs to the first point of the match.
The singles matches, however, would not come as easily.
Both freshman Paola Diaz de Regules and senior Kristin Buth lost in straight sets, leaving the match in doubt for the Aztecs. They would be led, though, by Johnson and Kennedy to victory.
Johnson would pull out a tough three-set victory over junior Sarah Gealer and Davis would end up clinching the match for the Aztecs, defeating senior Martina Kostalova 6-4, 6-1.
The fuel the Aztecs had been missing in recent matches had been the doubles point, and picking those up this weekend proved extremely beneficial.
"It's a lot different than if you lose that doubles point," Johnson said. "You kind of feel like you have to already start fighting back instead of just capitalizing on the win. So you're energy is already on a high and so it's easier to kind of keep that going and keep that energy going instead of having to build it up yourself again."
The Aztecs now have a three-match winning streak and come home for three out of their next four matches.
"I mean home court is always great," Johnson said. "It's where we're comfortable so, I think even coming from wins away from home going to a home match is big. So, we'll have that much more confidence going into it."
The winning streak has some of the Aztec players riding high.
"Now from here on there's going to be a lot of wins, that's what I see right now," Davis said when asked what this three-match winning streak means to the team. "To me, we have it all figured out and it's good. Everyone knows what to do and everyone has the same expectations and goals right now."
The Aztecs play next at 11 a.m. on Saturday, March 8 against University of North Texas at the Aztec Tennis Center.