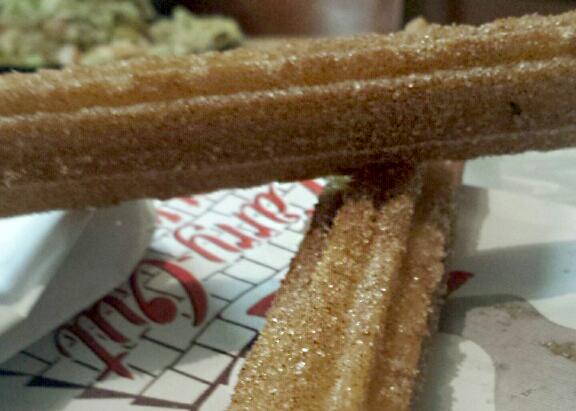 La Torta Café, located on Allison Avenue in La Mesa, delivers excellent Mexican food in large portions. While it is a sit-down restaurant, patrons order at the register and can help themselves to a salsa bar. The restaurant is small and comfortable and there is often enough seating for everyone.
The definite focus of the restaurant, however, is on the food. The menu is large and covers many common Tex-Mex foods, including a variety of tacos, burritos and quesadillas. The restaurant also offers soups, salads and a number of side dishes. Tortas, as the name of the restaurant suggests, dominate the menu. More than just typical Tex-Mex food, the sandwiches come filled with machaca (a dehydrated and rehydrated, spiced beef or pork), milanesa (a fried steak) or a breaded fish. Grilled chicken, carne asada and other options are also available. A sign next to the register offers churros that can come filled with cream or caramel.
I ordered a chimichanga while my companion ordered a torta. First of all, the dishes are beautiful and often colorful. The chimichanga came covered with guacamole, salsa, lettuce and cheese. The fried bread provided a crispy counter to the bean and meat filled center. The torta, served with home fries, was obviously very good. The bread was thick and tough enough to not get soggy under the milanesa and vegetables inside, while not necessarily being dry. The spices on the meat were atypical, burning lower and more thoroughly than spices used on other Mexican food.
Lastly, in the spirit of reviewing the restaurant thoroughly, we ordered the churros. It wasn't hard to make the choice, considering the churros came three for $3. Often, you can tell a churro is undercooked when the center is still doughy. Despite what ballparks might teach you, this is not how they should be done. Half of them were filled with caramel, too, so that could hardly be a negative.
The restaurant has a comfortable atmosphere with great food. A meal typically costs around $10, but the portions are large. The food can be heavy, so come hungry.