Local bar drives traffic 'till doors close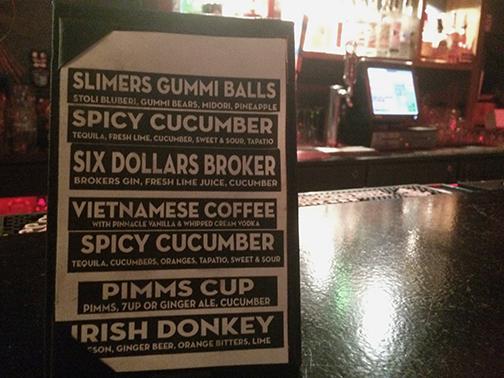 When it comes to a bar, simplicity is often best. Til Two Club on El Cajon Boulevard isn't fancy and it isn't immediately attractive, but it certainly has the qualities of a go-to bar. From the outside, Til Two looks like a small town bar and the inside feels like it — although it's not actually too small. The inside includes about seven booths along the walls, a pool table, a jukebox and a stage in the back for live acts. The bar area is spacious and the wall behind it is decorated with vintage clocks around a flat screen TV — the new season of House of Cards was screening when I dropped by.
Til Two hosts happy hour specials from 4-7 p.m. daily, which includes $3 craft draft beers and low-end liquors. Who doesn't appreciate a decent buzz for less than $10 dollars?
The bar's specialties include the Cupcake, a mix of pinnacle vodka, pineapple juice, orange juice and whipped cream; the Makers Mark Old Fashioned, which includes Makers Mark Burbon, orange bitters, sugar and muddled orange slices; and the Spicy Cucumber, a mix of tequila, fresh lime, cucumber, sweet and sour mix, and Tapatio.
Draft beers range from $5 to $6 and include Total Domination IPA, Angry Orchard Cider, Cali Creamin' Vanilla Ale and Guinness Blonde. Bottled beers include Heineken, Corona, Coors, Newcastle, Pacifico and Sierra Nevada — most between $3.50 and $5. For those who want to splurge, the Iron Maiden Trooper is $8.
Aside from drinks, Til Two aims to entertain, especially by allowing the clientele to set the stage. For those who enjoy the spotlight, the bar hosts open-mic nights beginning at 9 p.m. on Sundays and karaoke nights from 9:30 p.m. on Mondays for those who stumble upon a bit of liquid courage. On Tuesdays the bar presents stand-up hosted by a local comedian, Gordon Downs, and treats customers to free pizza from Pizzeria Luigi — does it get any better than free pizza?
Above all, what's most enticing about Til Two is the live music. The stage area, set up in the back, has a garage feel to it and has the sound specs to create a lively performance. Til Two welcomes rock, punk, roots and other genres. Past performers include Paul Collins Beat, Too Short and Blow Fly. The cover charge for these shows typically ranges between $7 to $10.
It's enjoyable to discover new little-known bands, or at least drink and hang out with live music playing in the background, which naturally amps the atmosphere. Because of the set up at Til Two, people can choose how they enjoy the music: People can either head to the stage for an intimate experience or socialize near the bar with the music echoing in the background.
Hudson Falcons, Dressed for the Occasion, Lexington Field and Dead on the Wire are slated to perform on March 5. Joy, Harsh Toke, The Well and Cryptic Languages will perform on March 6.
Til Two doesn't try too hard to be hip, it comes naturally. The bar opens at 4 p.m and proves how easy it can be to stay out 'til two.