Country bar in cahoots with dancers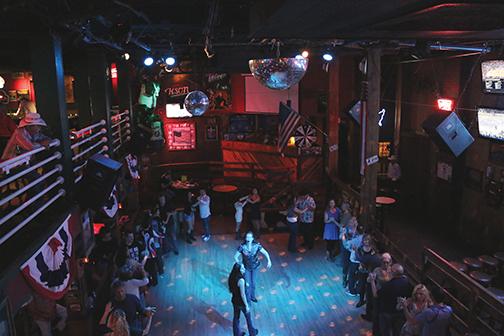 The first time I ever set foot inside a country bar, the first time I actually took country seriously, was on my second date with my boyfriend nearly two years ago.
I really had no idea what I was getting myself into, having never really experienced country before — yes, it is more of an experience than a genre — but it was one of the most amazing times of my life. Honestly, I recreate those two-stepping few hours in my head quite often since it's probably the closest I'll ever get to a Cinderella, ballroom-type moment.
Country bars are unlike any other bars I have experienced in my short stint as a 21-year-old. If you are looking for a fun experience with a dedicated community of country-lovers and awesome individuals to have a good time with, In Cahoots Dance Hall and Saloon is the place to be.
In Cahoots is in Mission Valley, a 10-minute drive from San Diego State, and has the perfect balance of cheap drinks, great music and an awesome atmosphere. Walking in, you are instantly bombarded by country music and a good time. There are American flags hanging from the ceiling, wooden beams stretched across the air, and neon beer signs, license plates, pictures and guitars hanging from the walls. There are two levels to the building consisting of a dance floor, outdoor deck, three bars (two on the bottom floor, one on top), a kitchen and pool tables.
Make sure to dress nicely, since open-toed shoes for men are not allowed, nor are workout clothes or clothing with vulgar prints. It is sensible to wear closed-toed shoes for women as well, since many of the line dances call for some quick stepping and stomping. If it's your first time, try going on Wednesday, which is KSON radio night. They play new country mostly and have ridiculous drink specials. If you're into country music but just haven't checked out In Cahoots yet, try the Tuesday night karaoke.
If you want to avoid cover, which is usually less than $10, try showing up early, and while you're at it, pick up some new moves during the free dance lessons Tuesday through Sunday at 6:30 p.m. You don't need to worry about having a dance partner because the line dances are done together. It's also a great place to meet people because you always dancing around a new crowd who is more than happy to help you out with the steps. If you want to dance with someone for a waltz or two-step, all you have to do is stand on one of the dance floor openings and someone is bound to sweep you away.
Dance instructors teach everything from the simplest dance, which is the two-step, to a country waltz, and all the most up-to-date line dances in between. The instructors go over the steps again and again so it's pretty easy to learn — having seasoned dancers all around you definitely helps. In fact, these seasoned dancers are part of what makes In Cahoots so special.
Every time I go, there are a few In Cahoots devotees who are always there, dancing the night away. They know every dance and put little variations on each really showing off their personal style. Belt-loop guy, as I call him, does most of the dances with his thumbs resting in his belt loops and a calm smile beneath his cowboy hat. Another daily dancer is a woman who wears more sequins, crystals and bling than I have ever seen. She dances in the most free-spirited way and is one of the kindest people you'll meet, plus she has amazing red cowgirl boots.
If you are tired of the usual bar scene in Downtown San Diego and are looking to spend a great time with some great people, In Cahoots is the place to be.