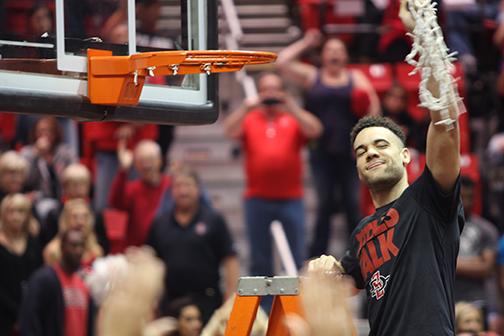 The San Diego State Aztecs (24-7, 14-4 Mountain West) beat the University of Nevada, Reno (9-21, 5-13 MW) 67-43 on Senior Night on Saturday. Seniors forward J.J. O'Brien, forward Dwayne Polee II, guards Aqeel Quinn and Ryan Staten were joined by their parents at mid-court in a pre-game ceremony before playing in their last game at Viejas Arena.
With the victory, SDSU ended the regular season as Mountain West Conference co-champions along with Boise State University and clinched a No. 2 seed in the conference tournament. Following the final buzzer, fans stormed the court to celebrate with head coach Steve Fisher and his team as they took turns cutting down the net.
"I think that I can speak for all of us, winning never gets old," Fisher said postgame. "And winning with the group that we have makes it extra delightful. I told the fans after the game that they have created a love affair between the guys on our team and the people that are here today that is genuine. When the seniors were introduced the energy and genuine appreciation that was expressed gives you goose bumps if you're on our side of the ball."
Quinn and Polee each scored a game-high 12 points to lead the Aztecs. Quinn was held scoreless on 0-4 shooting through the game's first 30 minutes, but went a perfect 4-4 from the field scoring 12 points in a four-and-a-half minute stretch before being taken out of the game to a standing ovation. He also recorded a season-high five assists and had only one turnover.
"Coach Fisher brought us up before the game, all four of the seniors," Quinn said. "I started shedding some real tears, man. I couldn't believe that this was about to be my last game out here. I get to talk mess to (Xavier Thames) now."
Polee, who didn't play in SDSU's last game against the University of Nevada, Las Vegas, due to a medical setback involving his heart condition, got the starting nod and played 20 minutes.
"It's breath-taking, really, Polee said. "The fans have been behind me, even when I wasn't in, through this whole situation. Just to be able to go out there and perform in front of them, whether I had 12 points, or zero points, was just a blessing."
His 12 points came on 4-9 shooting from the floor, and his five steals helped the Aztecs' second-ranked scoring defense limit Nevada to just 43 points. Junior guard Marqueze Coleman led all Nevada scorers with 10 points on 4-12 shooting.
O'Brien added nine points of his own in 31 minutes while junior Winston Shepard scored 11 and pulled down six boards. Four-year walk-on Staten checked in for his final minutes as an Aztec with less than three minutes to play in the second half.
Junior Skylar Spencer was also honored prior to the game for breaking the all-time blocked shots record at SDSU. With his three-block performance at UNLV, Spencer passed former Aztec Leonard Allen's mark of 214. Spencer swatted two more Reno shots on Saturday setting the new all-time record at 218.
Second-seeded SDSU will receive a first-round bye in the MW Tournament and will play the winner of UNLV and Nevada in the second round at 6 p.m. on Thursday March 12 at the Thomas & Mack Center in Las Vegas.