Men's hoops heads to Vegas for MW Tournament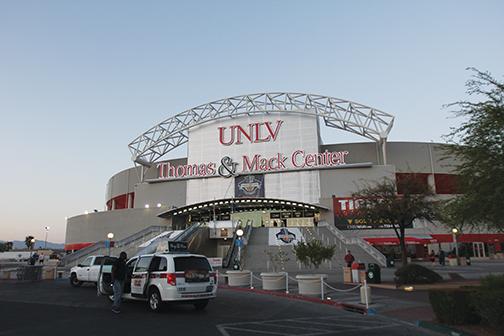 The San Diego State Aztecs (24-7, 14-4 Mountain West) begin their postseason play this Thursday at 6 p.m. in the MW Tournament in Las Vegas.
SDSU closed its regular season with a 63-47 thumping against University of Nevada, Reno (9-21, 5-13 MW) on senior night last Saturday.
There are tons of storylines to look for this weekend in sin city, but here are a few of the bigger ones.
The power of the No. 1 seed
Everything looks the same between No. 25 Boise State University and SDSU.
Their records are identical at 24-7 and 14-4 in MW play.
They both are 2014-15 MW regular-season champions.
They both have a bye in the first round of the MW Tournament.
But the Broncos have the highly sought-after No. 1 seed in the tournament because they swept the season series against SDSU. And the difference between No. 1 and No. 2 for SDSU is quite significant.
Boise State will either play University of New Mexico (15-15, 7-11 MW) or the Air Force Academy (13-16, 6-12 MW) in its first game, while SDSU will play either Nevada or the "home team" University of Nevada, Las Vegas (17-14, 8-10 MW).
SDSU outscored the Nevada teams 245-211 in four wins this year, but it vastly outscored Boise State's opponents 249-182 in four wins.
The Aztecs also went an even 2-2 against their potential second-round opponents, California State University, Fresno (15-16, 10-8 MW) and Colorado State University (26-5, 13-5 MW), but they swept the season series against the Broncos' potential second-round opponents, University of Wyoming (22-9, 11-7 MW) or Utah State University (18-12, 11-7 MW).
In other words, Bronco fans are probably breathing a little easier at this point.
How many bids?

No matter which team wins the MW Tournament, SDSU, Boise State and Colorado State are essentially locks for this year's NCAA Tournament.
SDSU is a 7-seed in most projected brackets, the Broncos range anywhere from an 8-seed to a 12-seed, and the Rams will most likely land a 10-seed.
Wyoming and Utah State, the 4- and 5-seeds in Las Vegas, respectively, don't have a chance to make the Big Dance unless they win the tournament this weekend and earn the conference's automatic bid.
This has been an incredibly down year for the MW, ranking 11th among all conferences in RPI after ranking first just two years ago with names like Anthony Bennett and Jamaal Franklin leading the way.
The MW earned five tournament bids in that golden year.
If a team other than SDSU, Boise State or CSU wins the MW Tournament, the conference will likely get four bids, just one short of the five from 2012-13.
Traditional powers not so powerful
George W. Bush was president the last time UNM, UNLV or SDSU finished outside the conference's top five when UNM earned the 9-seed in 2007.
Now, eight years later, both the Lobos and the Runnin' Rebels are outside the top five and don't have the first-round byes they're so accustomed to.
SDSU finished second in conference and the not-so-traditional basketball power from the plains of Boise topped the established MW giants.
Talk about changing of the guard.
The game in the stands
It's always fun to see which school's fans bring the most decibels to the Thomas & Mack Center.
In the last couple years it's been a battle between SDSU and New Mexico fans, with UNLV fans tossing their name in the battle here and there.
This year, New Mexico likely won't make it very far in the tournament, so Lobos fans will have to find a team to cheer for the other games their all-tournament tickets give them seats for.
In all likelihood, they'll flock to whichever team is playing SDSU, so the usually decent-sized representation of "The Show" will have a pretty significant fan base to battle with.
And if the title game comes to a round three between SDSU and Boise State, you'd better believe fans from pretty much every MW team will root for the Broncos to become the first team other than SDSU, New Mexico or UNLV to win the tournament since conference realignment in 2011.
The tournament starts Wednesday at noon when New Mexico plays Air Force. SDSU first plays Thursday night at 6 p.m. against Nevada or UNLV on CBS Sports Network.