Student researchers fuel original setups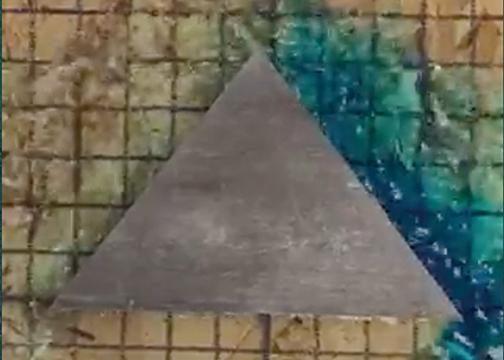 Aerospace engineering seniors Josue Quinonez and Jastine Ortiz are the first students to successfully stimulate a hydraulic jump through their original experimental setups. 
A hydraulic jump is a phenomenon that occurs when a body of water with high velocity runs into a body of water with low velocity, thus causing the water to rise at the surface. A hydraulic jump can typically be seen occurring in a river or spillway.
Quinonez said it's very difficult and challenging to try and create a valid set up that stimulates hydraulic jumps.
Quinonez and Ortiz started off their study by building and designing their own visual stimulator, called a "shallow water table," which measures the scientific phenomenon through particle tracking.
Quinonez said this particular study is meant to validate their computational fluid analysis for particle lattice flows with shocks.
They hope they can apply their research to the use of improving scramjet engines on military aircrafts by diminishing the loss of fuel. 
"With the scramjet engine, you have a high-speed flow coming into the engine with shocks occurring, fuels being injected and mixing with the air and then being ignited by the combustion chamber," Quinonez said. "While this is all occurring 60 percent of the fuel is being dumped because of how fast the velocity is traveling through the engine."
Through their experiments, they were able to track the particles of the fuel and air mixing to increase the efficiency of the engine.
Their research project "Control of Lagrangian Mixing in Fuel Injector Flows into Supersonic Cross Stream," was showcased at SDSU's Student Research Symposium this month on March 6.
SDSU's SRS is a public forum that allows graduate and undergraduate students to present their research and creativity. There were a total of 472 research projects presented at this year's two-day event.
This symposium is planned by the Student Research Committee and is overseen by the division of research affairs.
Current SRC chair Keven Jeffery said he was very proud of the outcome of this year's symposium.
"The amount of work our students do is just wonderful, truly inspiring," Jeffrey said. "We got positive feedback from everyone — volunteers, judges and students."
Quinonez said he and Ortiz initially became intrigued by the subject of fluid dynamics after taking a high-speed aerodynamics class with aerospace engineering professor and director of the SDSU Center of Industrial Training and Engineering Research Gustaaf Jacobs.
"We really fell in love with shocks and high-speed flow and I guess the study behind it," he said. "I would always be there in the front of the class listening to him."
Professor Jacobs became their faculty adviser for the research project. Quinonez said Jacobs saw the promise in their research two years ago after their first attempt at building the shallow water table. For that he is grateful to him and Sean Davis, a Ph.D. student and adviser, for their continuous support and help. 
The research project achieved additional support from the Louis Stokes Alliance for Minority Participation Community College Transfer Scholar's Program and California Space Grant Consortium from the Nation Space Grant Foundation.
They have been successful in measuring fluid velocity and hydraulic jumps, and they hope they can continue to expand on their research.
The next step in their research will be to obtain a more advanced high-speed camera that will capture the hydraulic jump phenomenon more efficiently to do a more valid computational fluid analysis.
Jeffrey looks forward to next year's symposium and is appreciative of all the student participation and volunteer work behind this event.
"It was really nice to see the entire community come out and support the event," he said.
Science majors to arts majors, all SDSU students are welcomed and encouraged to participate.
Students who participate have the opportunity to receive a presidential award, grants and a chance to represent SDSU at the CSU research competition in May.
Quinonez describes his experience doing research at SDSU as highly rewarding.
"I'd recommend that you do research if you're in college. The best thing you can do is research no matter what field you're in," he said.