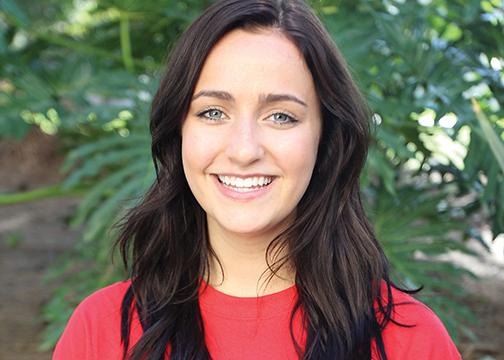 The Daily Aztec sat down with the A.S. presidential candidates to get to know them better. The three candidates will debate at 12 p.m. on March, 12 at the Conrad Prebys Aztec Student Union courtyard.
Blaire Ann Ward is a communication junior with a minor in management. She is from Scotts Valley, California.
The Daily Aztec: How are you involved on campus?
BW: Freshman year I was picked by the (executive) team of Associated Students to be a FLEX member—Freshman Leadership Experience team leader. There's five of us. I was given the opportunity to shadow the executive officers and gain in-depth, extensive knowledge of SDSU. I went through a lot of programs and workshops to make sure I could strengthen all my leadership skills, whether that be public speaking or speech writing. Then that spring, I ran for College of Professional Studies and Fine Arts representative, and I won on election. My next sophomore year, I held that position out. I also joined the sorority Pi Beta Phi and became the executive communication officer and new member educator for that class. Then in my spring semester I joined Rotaract, the community service-based organization for service above self. So I was very involved freshman and sophomore year, and stayed very closely tied to Associated Students.
So I joined a ton of boards and committees. I was given the opportunity to oversee the creation of the (student) union, so that was amazing on facilities board. I worked with Aztecs Rock Hunger and Rock the Vote on External Affairs Board. Then my junior year — going into my junior year — three campus issues had come about: divestment and then the Success Fee, and then later on — more this year — was the mascot. So with those issues I started to realize students were very passionate and wanting to make sure that their voices were being heard by staff, faculty and administration. And it seems shocking to some people at first, but I ran for student diversity commission representative for my junior term. I ran with the idea that I came from a place that isn't diverse. It's very Caucasian, middle class families, and I came to SDSU and I had culture shock. And being in Associated Students made me realize that there are so many people different from myself and I had so much to learn. And as a student leader and Professional Studies and Fine Arts rep, I dove into those issues and I gained a lot of support from students and organizations that felt underrepresented. From there I became diversity representative, I was elected and this year we've had an amazing time as a commission — planning events, doing promotion for diversity. We're so proud to say we're 17th most diverse — according to some articles — school in the nation, and very LBGTQ friendly and we're really, really passionate about keeping that moving forward.
DA: Why did you choose SDSU?
BW: I was walking down Campanile on orientation, head down, looking at the ground and terrified. I couldn't even speak. And I saw someone tabling — Chanelle McNutt, a past exec officer — and she pulled me to the side and goes, "You need to be involved in A.S. I see something in you." Little did I know back then that was a marketing scheme probably. She didn't know anything about me, but what she did know is that students, when they find their involvement — whether it's working on The Daily Aztec, in an intramural sport, on a board or committee for A.S. — they have a better experience at SDSU than someone that sits there and is in their dorm room or residence hall room and doesn't get out there. And so I signed my name on the dotted line, joined Associated Students, became a FLEX member. SDSU's outreach to students is incredible — more so than any other university. I think that administration tries so hard to make sure we're not a number here. Ambassadors, residence hall advisors, all of us are working together. We're only a 118-year-old-university, and it seems like we've been here much longer than that because of what we're doing, so I'm excited to move that forward. That's the reason I came here, because the second I came here, everyone was welcoming and nice.
DA: Why did you decide to run for A.S. president?
BW: I saw that I had an amazing experience here and my life has been changed. Like I said, in high school I was more shy, more quiet, did not have confidence, and I was extremely insecure. When I joined Associated Students freshman year, I felt like it was the first time that I was surrounded by people who believed in me more than I believed in myself. And when I started connecting with other people I realized that's not just Associated Students — that's in every organization you join. You have a "family" and you feel like you have purpose and belonging, and it's not a coincidence that one of our strategic plan themes for the university is Leadership Starts Here, because there are so many endless opportunities for students of any background to come here and to get the ultimate Aztec experience and find their ultimate purpose. So through my leadership experience I realized, what's next? What am I going to do with my time left here? I knew that the passion inside me was I want every other student to feel that purpose and feel that importance and to walk out of the university, to walk out better than when they started. And I'm prepared because of my extensive knowledge of Associated Students to head up that organization. What's unique about me is with my current position as Student Diversity Commission, and with all of the campus issues that have been arising lately, it is so important that the leader of the university has connections and relationships with underrepresented students. So that is where my passion lies. I want to make sure that we continue bridging communities together.
DA: What areas does SDSU need to improve most on?
BW: I'm very proud to say that I sit on the University Senate Diversity and Equity Outreach committee, and it's amazing to sit around faculty and staff who are so passionate about what they're saying for the students and this is a theme that you meet even when you have a conversation with President (Elliot) Hirshman. All the faculty want to do is, with the resources we have, help the students. And, you know, we're really limited by funding from the state, so we can only do what we can do and we implemented a new strategic plan as a university in—I'm pretty sure it was 2011, around there—and it's all about making sure that our research progresses and that students have the ultimate Aztec experience, gain leadership opportunities and that every student comes here from any background and can achieve a quality education.
A certain issue that came up recently from an organization outside of campus called Justice Overcoming Boundaries was about homelessness on campus. And we do have resources for students who are homeless, but the activism is wonderful. I appreciate it. I'm grateful for it because it illustrated to us that these resources need to be advertised. So homelessness, resources, but besides that we're doing a great job working on sexual assault. We have so many programs in place—I mean all of April is designated to that. And we're working on the campus climate survey to send out to students on the sixth, so I want to keep pushing for sexual assault (prevention).
And then alumni relations: that's one of my personal initiatives under our team goals. Aztec Mentor Program needs to be pushed because for alumni that don't want to give back money necessarily to the university, it's a way to give back jobs. Because let's say you were to be in the Aztec Mentor Program, you get a mentor, they mentor you, you make that connection, and then they help you move on and get a career, which is what we're all here for — to get a degree and get a job.
DA: What's you favorite place to eat on campus?
BW: I love Olive Oil in West Commons. I try to eat mainly vegan and vegetarian diet—sometimes you'll see me eating meat, but I'm all about going green since our university is a go-green university. They're amazing. The fact that they're on the meal plan and provide that nutritious food for students with the meal plan is just incredible. My second favorite place would have to be Starbucks—I'm a Starbucks dweller, so I eat their food, drink their coffee, but that's where I go to crack down and study besides the library.
DA: What has been your most memorable experience at SDSU?
BW: There's so many, because I'm so die-hard Aztec. My favorite memory thus far is this campaign. I am meeting so many different people and it's making me grow. It's also helping me learn so much more about every single facet of campus. I have stayed up for the past week and I've had less than eight hours of sleep and it's all toward the university, our goals and our team, and that's amazing. I feel like I'm changing from it. Win or lose, I think it's awesome that people are stepping up and trying to get into these leadership roles. And then, I mean, I've been helping with homecoming since freshman year, and my organization won third place in homecoming freshman year and I got to stand in the football stadium and be on the Jumbotron.
DA: How will you get people outside of your inner circle to support you?
BW: So, a big thing is: I don't have an inner circle. I think that's the best way for me to put it. I think that you only grow by jumping out of your comfort zone. So I always, always try to get uncomfortable. You see me at all the cultural events — not all of them, but I try to make it there. And you see me as student diversity representative helping students that are the minority on campus and wanting to reach out to them. And then I am in a sorority; I'm in the Greek community. And I've worked in the educational, research part of the university. So I'm very multifaceted, and that's why I think I have support from students, because they know that the role of the president of Associated Students is to represent everyone's voice, so I'm not just confined and I don't just identify with one organization.
DA: What's the best advice you've received in college?
BW: The best advice I've received in college is everything you want is on the other side of fear. And I was told that by—it sounds very deep—but I was told that by one of my mentors who was an A.S. executive officer four years ago. He said, "Blair, whatever you're afraid of, try it." That's not saying go crazy, but, for example I was afraid to walk into Afrikan Student Union at their midnight breakfast freshman year because I was clearly the only white female with a bunch of people that I didn't identify with their culture, but I showered up, I danced with them, I ended up getting on their Instagram page and I had so much fun. And public speaking—I hated it. I was terrified. I took up a (communications) major and now I'm speaking in front of—I spoke at the band run (to welcome new families on campus) in front of 1,000 students earlier this year. So, you grow every time you try something risky. It's just like a newspaper—write about the things that are challenging, and that's when you grow.
DA: If elected, what do you hope to accomplish?
BW: So, there are so many ideas that our team has, and we have a lot of initiatives that we want to plan. We have three main, broad and bold goals. The first is to support campus-wide communication, and the second is to strengthen the Aztec experience, and the third is to serve student success. All of our initiatives lie under there. Personally, I really want to push for the Aztec Mentor Program and make sure that every single student has a mentor because that connection will allow them to grow and it will strengthen all ties and relationships with alumni. I mean, alumni engagement is huge—that's more funding, more support for university, more Aztec pride.
And, promoting student involvement—that's huge. So supplemental surveys for students that point them in the direction of where they might be involved. And having social media lists, so students go, "Okay, I should go here, I should go there." Bigger pictures for the university: more security cameras, more campus lighting, and starting conversations about parking, because that is just something that every student has told me is huge. You'll definitely hear more about that during the debates, each of us speaking on our own.
We have four amazing auxiliaries on this campus: Research Foundation, Campanile Foundation, Associated Students and Aztec Shops. Making sure that we strengthen relationships with them so we maximize potential and all students get everything they want and more out of the Aztec experience. What we're looking at is the strategic plan by Associated Students next year to makes sure that all of our goals are achieved, and a lot of work will be involved. At the end of the day, things get thrown out — for example, sexual assault, Success Fee, divestment. And you just want to make sure that you have leaders out there who have been in leadership roles, who have dove into those issues and who know what's going on so they can have conversations with any student to represent them correctly. Our team is ready to leave a bold and fresh legacy in that regard.
DA: Why do you think you can understand SDSU students more than other candidates?
BW: The candidates are wonderful this year. Everyone is amazing. And we are all students. So, I believe I have the ability to sit down with someone — whether it be an athlete or whether it be President Hirshman — and sit at the table with them and communicate. It's my major; it's what I've studied. It's really important to me and my team that we have integrity, that we're real, that we're getting the job done. Students are electing me to get the job done. And if they believe in that then vote for me. If they don't believe in that, vote for someone else. But to get the job done you need to work with everyone, and I've proven through my leadership experiences in the past and my large, vast network and touching my toes into so many parts of the university — especially with my diversity role — that I can work with anyone. And I respect what people are saying. I have done it before, so it's not like it'll be something when I get into that role. someone told me the other day — who is in Asian Pacific Student Alliance — that if I were to be elected she would feel so represented, and that's huge. I mean, her feeling like that and someone in a sorority feeling like that and coming together… it's unifying. And that's what we need as a campus: to unify, bridge the communities, have someone up there that can represent that, and I think that I personify that.
DA: If you weren't majoring in communication, what would you major in?
BW: Public relations or marketing because when I leave SDSU I'm hoping to work for Sony, or Paramount or Disney or something like that. Communication is wonderful because it's broad but these two majors are focused, so I think that since that's the direction I'm heading, I maybe would do those. But I'm so proud to be a (communication) student. If you take the major seriously and you really do the studies and participate in the research, you learn so much. I'm proud to be a (communication) student and management minor.
DA: What's one thing people don't know about you?
BW: One thing people don't know about me is that I'm an introvert. So, I come off very outgoing and I love meeting people and I'm always willing to jump out of my comfort zone and get to know people, but at the end of the day you don't see me going crazy, at parties or anything like that. I love to be home by myself, reading a book. I go on hikes by myself, I go to the beach by myself, and I recharge when I'm alone. I guess that goes toward, "Don't judge a book by its cover," because I have this whole outgoing part of me, but there's a very quiet and reserved side that I keep to myself.