Alum family business moo-ving up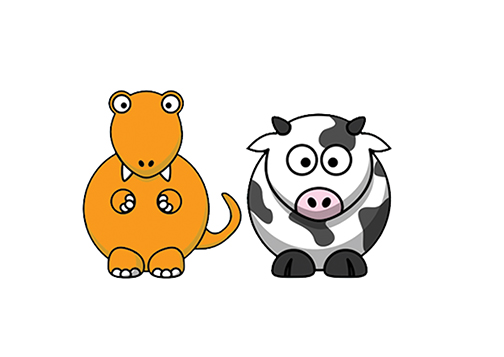 From the football field and science labs to the world of big business, one Aztec alumnus is using his life as a student athlete to inspire leadership in business. Ted Edwards is currently the chief executive office of RaptorCow, a marketing and advertising company for small businesses, and wants to provide affordable services to his customers.
RaptorCow, which is owned and operated by the Edwards family, launched online in late August 2014. It works to help small businesses organize their marketing plans, manage their social media platforms and create promotional items for their customers. RaptorCow's goal is to help drive traffic to clients' websites and bring customers to their doors.
Edwards remembers being a student athlete at San Diego State and struggling financially to finish school. With RaptorCow, he wants to partner with local restaurants in order to provide students with discounts they would appreciate.
For now, RaptorCow is located in Los Angeles, but Edwards plans to expand the business to San Diego in the next few years.
RaptorCow is a family business in every aspect, including its name. The term "RaptorCow" is an old memory the Edwards family shares together. When Edwards was seven years old, he and his sister were drawing pictures of their mother to surprise her with when she got home from work. Edwards drew a picture of a velociraptor and his sister drew a picture of a cow. Needless to say, their mother was not amused.
"My dad asked us why we drew our mother those ways," Edwards said. "I drew her as a velociraptor because I thought my mom was the toughest person ever and no one could mess with her. My sister said it was because cows are pretty and happy, so that's how the name came about."
Edwards believes the name "RaptorCow" best represents the company he has built from the ground up. RaptorCow is intended to help small, local and family-owned businesses afford branding and advertising services to help their businesses be successful.
"Small businesses don't have a huge budget for marketing and advertising, or might not even know how to get started," Edwards said. "We cut the price of those services because we understand them."
Edwards' mother is the chief operating officer of RaptorCow and Edwards' father is the director of programs.
Deciding to work as a family was easier said than done. Before the company got started, each family member found themselves in different parts of the world.
Edwards was traveling around the world, working as a strength and conditioning coach and sports nutritionist for Olympic and professional athletes.
Before moving to LA, he spent some time in Barcelona, Spain and parts of China preparing athletes for the 2008 Summer Olympics.
His parents were living in the Virgin Islands enjoying retirement when they all decided to move to LA and start a new chapter in their lives.
"We made the decision to try and do something new together, so we all jumped off the cliff, moved to LA together and started a business together," Edwards said.
Since starting RaptorCow, the family has begun building trust with their clients. However, Edwards intends to continue expanding the company. In order to do this, Edwards has started a Crowdfunding campaign to help keep the costs low for their clients and their customers.
"We're starting to gain a lot of traction, but with the business plan, we really want to expand at a good rate to bring consumers to the business and build a community," Edwards said. "The Crowdfunding campaign will solidify our deals platform and the company because we want to keep the platforms free for consumers."
RaptorCow wants to continue creating a personal bond with its clients, because it understand what it's like to be a small business. Edwards understands his company is a direct reflection of what he learned on the football field and inside the classroom at SDSU.