Former Aztecs star at Cygnet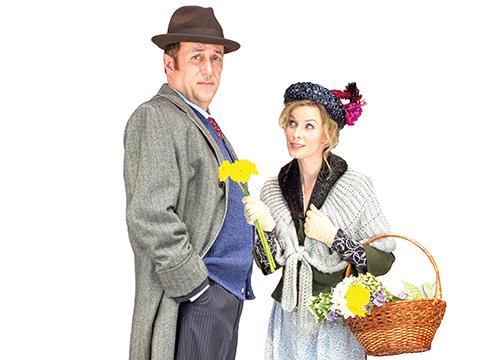 One of the most beloved musicals ever written is playing at the Cygnet Theatre in Old Town. "My Fair Lady" combines classic show tunes with quick-witted dialogue to depict an unusual relationship between a poor, uneducated flower peddler Eliza Doolittle and the egotistical professor Henry Higgins, played by San Diego State alumnus and Cygnet Theatre artistic director Sean Murray.
The new production features several actors from a previous Cygnet staging at the Rolando Theatre, now known as the Moxie Theatre. Not only is Murray starring and directing once again, but Tom Stephenson, who recently won Actor of the Year at San Diego Critics Circle's 2014 Craig Noel Awards, is reprising the role of Colonel Pickering.
Stephenson's father, Dr. C.E. Stephenson, helped start SDSU's Master of Fine Arts Musical Theatre program.
"I remember playing the catwalks of the Don Powell Theatre when I was growing up," Stephenson said. "I was blown away by the scene shop and the theatre in general. It is still a beautiful theatre."
Stephenson will be creating his own take on the role of Pickering, as opposed to being inspired by previous portrayals of the character, he said.
"During conversations with Murray about the process of 'My Fair Lady' coming to the stage, my impression from his remarks was that Pickering was kind of whittled down into a guy who sat and read the paper," Stephenson said. "We're trying to work away from that and make Pickering more intellectually active and invested in the whole project of tutoring Eliza."
A unique aspect of this Cygnet's staging is that instead of a traditional, large cast, many ensemble members will be playing several different roles. SDSU alumnus and stage manager Jennifer Kozumplik feels handing these scenes are some of the most fun and interesting challenges of the music-filled comedy.
"Making it all operate smoothly backstage can be a challenge and also enjoyable because there should be a magical feeling when certain thespians play someone completely different 30 seconds later after they exit a scene," she said. "Sometimes by pairing a story down, it shines more as opposed to having tons of artists and having a really big production."    
One performer who will be portraying several people is SDSU alumnus Debra Wanger. She will primarily play Mrs. Pearce, Higgins' housekeeper who gets to sing alongside Eliza during the showstopper "I Could Have Danced All Night." Like Stephenson, Wanger does not want the movie version or other productions of "My Fair Lady" to influence her depiction of Mrs. Pearce.
"I've seen the film, but not for a few years and I haven't gone back to it for this," she said. "Murray is really letting us take these characters from scratch, which is really fun. I have always kind of dismissed Mrs. Pearce as being just a housekeeper, but she is integral in keeping the dysfunctional family together and Higgins' life running."
Wanger hopes that the new version of "My Fair Lady" captures the spirit of the original source material "Pygmalion" from George Bernard Shaw.
"We've really gone back to the original 'Pygmalion' text," she said. "I think one of the traps of 'My Fair Lady' is it's really easy to get away form the main characters and story and get into scenes that seem to be about hats, costumes and big numbers. This rendition will attempt to tackle some of Shaw's themes about class, judging a book by its cover and what makes a person a person."
If the messages, tunes and jokes resonate, then "My Fair Lady" will be a fresh take on a timeless family friendly show. Having so many on and behind the stage with connections to SDSU should also make any Aztec proud.