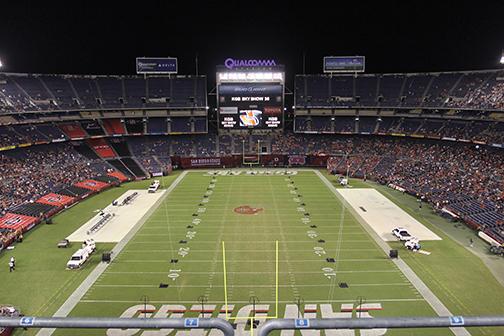 Sen. Marty Block is proposing that SDSU take over the Charger's Qualcomm space if the Chargers decide to leave the stadium.
For a while the Chargers have been toying with the idea of leaving San Diego, but with the recent developments of their possible union with their longtime rival, it looks like those ideas are coming to fruition.
News broke in mid February in the LA Times of the plans the Chargers had been working on with the Raiders. Together they revealed their plans to build a stadium in Carson.
While it is still uncertain whether the Chargers will leave San Diego, some people from around the city have expressed ideas of what to do with the Qualcomm Stadium space that may be up for grabs soon.
Among those with ideas is Sen. Block, who was a longtime educator at SDSU before joining the Senate.
"We're a long way from this being a completed project, but if we don't start thinking about it, it won't even be on the table when the time comes," Block said.
Block thinks the stadium space would provide a good place for SDSU to expand its campus and build a kind of annex for the school.
The plan would be to build residence halls and possibly faculty housing, and produce a mini city for college students, complete with shops and restaurants that cater mostly to the students that would live there.
"Part of the beauty of planning student and faculty housing buildings is you wouldn't be putting a lot of traffic on the a freeway that is already clogged with cars," Marty Block said. "It would reduce pollution, the use of gasoline, lower fossil fuel, it would not impact Friars Road the way general community housing or a big box store would."
Although the San Diego's Citizens Stadium Advisory Group has selected the Mission Valley site as the potential place for a new stadium, there are still many ideas and details to finalize before any decisions are finalized.
SDSU Chief of Communications Greg Block said that although acquiring the Qualcomm space is hypothetical at the moment, SDSU would consider the idea.
"Whenever there is a possibility that San Diego State University could expand the campus and thereby our ability to serve our students and our community, it is worth exploring," Greg Block said.
Right now SDSU has about 33,000 students attending the main campus and Marty Block thinks that this idea would help SDSU accommodate its students.
"SDSU is pretty much bursting at the seams right now," Marty Block said.
Last year nearly 60,000 freshmen applied to SDSU, and more than 5,000 enrolled.
"I hope the Chargers don't go, but I don't think it's too early to start to think about what will happen to that space if they do go and how the land would best be used to help San Diego State," Marty Block said.