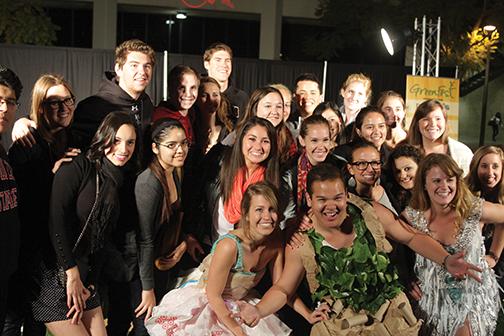 San Diego State students have all come to love GreenFest week. However, between all of the fun events during the week — the opportunity to take home free, green products, and the big concert on Thursday night — we often forget about the team of students responsible for making it all happen.
Sustainability sophomore and GreenFest Executive Committee Chair Vivian Lee paired with business management senior and Vice Chair Jessica Valo to spearhead the GreenFest Executive Committee. The committee works to advocate for sustainability, diversity and Aztec Pride to students through interactive and creative projects.
"We focus on programming, so each of our events is planned by a different person," Programming Assistant and public relations senior Jen Parker said.
There are 10 other alternative committee chairs. Each member is nominated by his or her respected organization to fill the seat on the GreenFest Executive Committee. Each member is also asked to plan different events for GreenFest week. However, the committee decided to shake things up a bit this past year.
Instead of limiting GreenFest to one week, the committee decided to plan an event for each month beginning in September 2014 with the Grow with GreenFest event. In addition, they have continued to hold events such as the GreenFest Showcase, where the opening artist for the GreenFest concert is chosen, and Sustain Your Roots, the Aztec chef competition.
"This year, we decided we wanted to do the week-long initiative and it's the first year we have done it," Parker said. "We wanted to instill on campus that sustainability isn't just a week-long thing. We should be doing it year-long and we should always be working toward sustainability."
Lee was hoping to create more interactive events and help students walk away with something, whether it was a better understanding of small sustainable efforts they could be making or a Mason jar filled with plants.
"Coming in, my vision was to have a lot more interactive events," Lee said. "Many people are hands-on learners and we want to create a culture of sustainability with things you can take home."
Enviro-Business Society president and international business junior Brigid Moore said the society actually created GreenFest a few years ago.
"We actually started it with Earth Week that was also a week-long of events that we planned ourselves," Moore said. "It got too hectic and was too much planning but was too successful to give up, so we handed over Earth Week to Associated Students and they transformed it into GreenFest."
In exchange for handing over the week of events, the Enviro-Business Society was provided a seat on the GreenFest committee for as long as it remains.
Although all the fun and festivities that surround GreenFest are long gone, the committee has begun working on the events for next year. The current committee wants to continue extending the events of GreenFest to a year-long advocacy project.
"We want to keep this a year-long initiative because it's something very new," Valo said. "We're still kind of learning and growing because every event was a learning experience."
Next on the committee's agenda are two events in April — Bloom with GreenFest on April 9 during the Farmers Market, and the Enviro-Business Fair and keynote speaker on Earth Day, April 22.