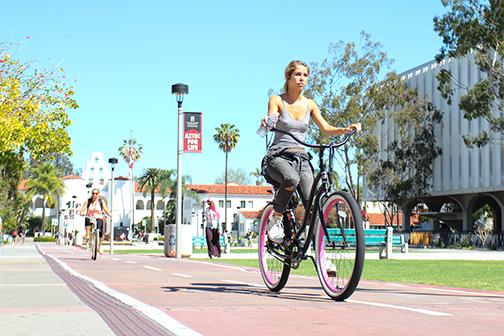 San Diego State's sustainability major might just be the perfect route for students interested in environmental issues. The university started offering the major in fall 2013 after a wave of student activism to "go green."
Sustainability is an interdisciplinary program that allows students to study environmental issues in a more conceptual and cultural approach, rather than a technical one.
Sustainability co-director, undergraduate adviser and anthropology professor Matthew Laurer said he was excited to see students pushing to make sustainability an official degree.
Sustainablity junior Daniel Kodama said environmental issues have always been something he is passionate about. He decided to become a sustainability major after realizing it can be used in multiple fields, including environmental business or law.
"
"One common thing I see is students that are passionate about environmental issues, but they aren't sure what route to take," he said. "Sustainability is a good major for them. It's a good way to really widen views and get involved in trying to solve some environmental issues."
— Daniel Kodama
Sustainability majors can choose to focus on one of three field distributions. Field A is culture-nature interface, which looks into environmental resources, economics and environmental history. Field B is applied and regional studies, which consists of courses that relate to urban economics. Field C is scientific and analytical thinking, which applies environmental studies to issues like wildlife conservation, global climate change and energy resources.
Due to the interdisciplinary nature of the program, there is a wide range of courses such as economics, geography, biology, political science, history and anthropology within each field distribution. Students are not required to choose a field, but it is required to take at least three units within each field.
When deciding the curriculum of this major most of the classes were already being taught as part of other majors. The link was this environmental dimension to them all said Laurer
Sustainability co-director, undergraduate advisor and political science professor David Carruthers said students that take the philosophy class learn about environmental ethics, and students taking political science learn about environmental policies.
"It's the breadth of the training that gives them this more expansive understanding on how to solve these issues," he said.
Laurer said there is definitely a job market for environmental studies. U.S. News & World Report comes out with an annual assessment that determines which jobs will be plentiful, and he said environment-related jobs have been growing every year.
One of the best things about the major is it provides opportunities to get involved and support environmental movements, Kodama said. Laurer added that the campus' sustainability community shows how motivated students are to change things.
"There's a movement to change the landscaping on campus and make it more drought tolerate," Laurer said. "I mean, we have a campus that was envisioned as a tropical paradise. We're not in a tropical paradise, we are in an arid environment. So there's a shift to get rid of some of the grass and put in native species," Laurer said. "It's incredibly promising. The millennials get it."
There is currently a sustainability minor in the works that could potentially be offered in fall semester 2015. The new minor would be 15 units and would stem from the pre-existing environment and society minor.
Carruthers thinks students should take a sustainability course even if they aren't planning on making it their major. He believes it might be an eye-opening, rewarding and enlightening experience for students.
"Get active, join organizations, think about the way you live," Carruthers said.  "Think about the power of the consumer. Educate yourself. It's an incredible time to get engaged."