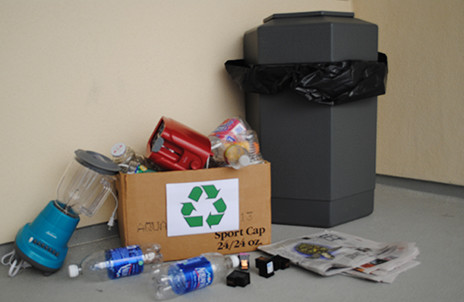 Many avoid going green for many reasons because it either takes too much effort, they don't know how or they believe it doesn't make a difference. But there are tips that can easily help make a difference.
Recycle
Yes, call it basic, but recycling is an essential way to eliminate a world full of pollution and waste. There are blue recycling cans right next to the landfill ones all over campus. It's simple: throw plastic, glass and paper in there. To feel accomplished, make sure to save unused glass and plastic items and sheets of paper at home to take to a location that will reimburse you for recycling. So even if you don't actually care about the environment, it still pays to do it. Talk about extrinsic motivation.
Reuse
Enough with all these Smart Water bottles. Actual smartness is purchasing an inexpensive refillable water bottle. Almost any store will have them. CamelBak, Klean Kanteen and Contigo are just a few. They are easy to wash and carry around. Plus, it's a good way to make sure you can always stay hydrated. Good for the earth and good for your health.
Save Energy
Nelly Furtado said it best when she sang: "turn off the light." Use the daylight as much as possible. Open up the windows, let the natural light in and keep the lights off for as long as possible. But Thomas Edison did invent them for a reason — some are afraid of the dark. Just remember when you leave a room or are done keeping the monsters away, turn off the lights. If you want to really make a difference, get energy-efficient light bulbs like compact fluorescent light (CFL) bulbs. It'll save energy and put an end to the how-many-roommates-does-it-take-to-change-a-light-bulb joke.
Also, unplug all appliances, chargers and extension chords that aren't being used. Everything and anything should be unplugged and turned off, especially if you aren't even home.
Save Water
Your shower is not Niagara Falls nor is it a place for you to sing Taylor Swift's entire discography. Try to cut your shower time down by a few minutes every time you're in there. You'd be surprised what you can accomplish in just five to 10 minutes. The struggle can be real for girls with long hair, though. Just make sure the saving-water to being-clean ratio matches up properly.
Donate Belongings
We all have those clothes in our closet that we haven't worn in years. But we keep them for that day three years from tomorrow that it'll be the exact outfit you were looking to wear.
Donate already. The items you are inexplicably attached to could be used by other people. Sort through all your clothes and if you haven't worn something in a year — be honest — then put them in a bag and donate to your local Salvation Army or Goodwill. Eliminate the need for more clothes to be mass-produced.
Reduce Waste
Only purchase what you need. It's easy for your eyes to be bigger than your stomach when shopping for food, so make sure you're not hungry and eat first. There's nothing worse than watching your produce go bad after a week. It is such a waste of food and money. Be efficient and plan out your meals for the week, that way you buy exactly what you need.
Also, use reusable shopping bags. Disposable plastic bags can be so wasteful, so purchase inexpensive bags and don't forget them at home when you shop. They come in different colors and designs for you to choose from. Not only are you helping the environment, but also you can look good doing it. It will be good to be in the habit already when the ban on plastic bags goes into effect on July 1.
Decrease Pollution
Ride your bike, rollerblades, skateboard or even scooter to avoid driving, if it's not necessary. This will help keep the air we need to breathe clean and you get to burn calories while doing it — it's always a good time to work on that summer bod. If driving a car is essential for the commute, try to carpool with a group of people all headed in the same direction. Plan your errands accordingly to try to get them done in one trip to save all that driving. This will save you gas money and time that you can spend having fun. It's obvious there is a direct correlation between being green and having more money and fun. So, why not?