Tasty Tuesday: Step up your Taco Tuesday at TJ Oyster Bar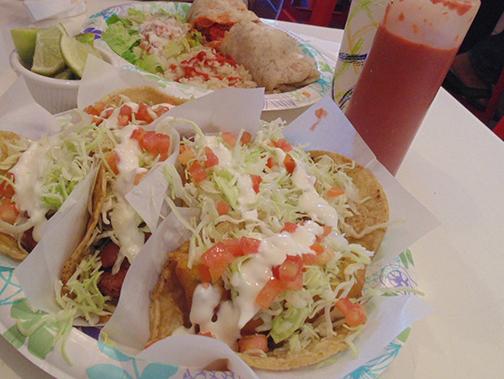 It's no secret that one of the perks of living in San Diego is the Tijuana-style tacos. In Bonita, TJ Oyster Bar has become a neighborhood favorite for their signature Tijuana-style seafood dishes. This little hole-in-the-wall restaurant usually has a line lingering outside its doors.
Upon entering, there is a clear view of the kitchen, and sitting at the bar you get to watch everyone's food cooked in front of you. The restaurant bars have a bright blue tile resembling the sea and there are enlarged pictures of their dishes hung across the walls as the décor. Though the space is small, it's actually an enjoyable experience to hear fish being grilled and smell the enticing scent.
The menu is an assortment of tacos, burritos, tostadas and pescadillas that can be prepared with your choice of seafood. You can get the octopus burrito, the marlin pescadilla, or the garlic shrimp tacos to name a few.
The shrimp burrito was tasty and packed with shrimp and cabbage that was dripping with the delightful marinated juices used to give the food its authentic Tijuana-style flavors.
The fish tacos are a delicious signature entrée at the cheap price of only a $1 every day. That's right — every day. Who needs Taco Tuesday when there's TJ Oyster Bar? All tacos are served with their house batter, cabbage, tomatoes and cream.
Almost all dishes are served with a side of rice pilaf and fresh salad topped with their house dressing, diced tomatoes, and sprinkled with queso blanco. Their original homemade red hot sauce and sliced limes are complimentary with every plate.
Other specialties on the menu include their fish fillet that can be prepared either chipotle style, breaded, grilled with olive oil or garlic, diabla style or veracruzana style. Diabla is a hot sauce and veracrunza is a tomato-based sauce that I served with onions and peppers.
Despite the sometimes noisy environment and hassle of waiting in line, the service is extraordinarily quick. The wait for food is relatively short with this fast-paced and well-trained staff and the food is always worth the wait.
There are currently two locations for TJ Oyster Bar on Bonita Road. The original location has more authentic Tijuana style and is small and simple, while the new venue is more upscale and the menu is slightly altered. For example, the $1 fish tacos are only served at the original TJ Oyster Bar.
TJ Oyster Bar will not disappoint anyone looking for an authentic Tijuana-style dining experience. This restaurant is the perfect complement to the surrounding community and a potential favorite for taco-loving San Diegans.