Music collective houses local talent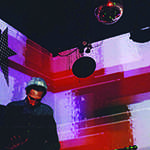 by Ryo Miyauchi, Assistant Entertainment Editor
April 9, 2015
San Diego has a number of thriving music scenes defined by a solid musical identity whether it be hip-hop, do-it-yourself punk or big-room dance. But how about the more experimental styles that belong in between these three circles? Fortunately, creative collective Kill Quanti provides a community for musicians who would slip in between the cracks.
Founded by Santino Romeri in 2008, Kill Quanti began as a group of friends who all had an interest in experimental electronic music. In the beginning, the collective started with Illuminauts, a warped beat group formed by Romeri and two other friends. As time went on, the three connected with other like-minded creatives. Musicians such as wonky producer DJ Pound and aged-synth fiddler eLan make up the collective
"We try to involve as many people as we can," Romeri said. "We have so many friends who had a hand whether it was playing a show or just coming out to support or buying a record. We try to make it a community vibe instead of building a brand to generate a profit."
Since then, the crew expanded into a record label and a promotion company. Kill Quanti currently releases music both digitally and physically. The collective hosts Bandcamp downloads of projects by aforementioned affiliated artists. One recent physical release was the limited cassette release of a collaboration between two San Diego artists Mr. Brady and Abjo.
On the show front, Kill Quanti has brought a range of artists in different scenes and professional status. The collective artists played countless shows in San Diego throughout the years from house shows, to frequent shows with friends at the Kava Lounge, to supporting slots at Soda Bar or The Casbah.
Kill Quanti has also booked several notable artists outside of San Diego. The most recent big booking was Kendrick Lamar-cosigned jazz bassist Thundercat at Soda Bar last June. Other notable shows presented by the collective include a club night with bashful dance producer Ryan Hemsworth and a Irenic show with synthesizer auteur Oneohtrix Point Never.
"People we've worked with, friends of ours, are on some of the biggest albums being released on music right now, from Jay Z to Kendrick Lamar," Romari said. "And it has expanded to such a wide variety of genres way beyond what we expected."
Though the crew started to fulfill more of the members' personal needs, Kill Quanti has switched its goals to bring local music fans together and create some positivity in the community, Romeri said. The sentiment behind the group translates into the collective's DJ night, Astro Jump, which happens every third Thursday at the South Park bar Whistle Stop.
Romeri handed directorial duty for Astro Jump to the other key Kill Quanti member Nicky Castaneda, also one-third of Illuminauts. At Astro Jump, two touring artists usually play their music along with Kill Quanti artists and friends who play as supporting acts. The style of music played during the event reflects the diverse tastes of the collective. One night featured a live electronic band, followed by a producer who brought out his drum machine, Castaneda said.
Astro Jump has been running at Whistle Stop since 2013, and the event has been steadily following, Castaneda said. Some of the audiences at the DJ night has known the collective since its early shows and the crew's radio show stint. But new people keep coming back as well.
"People came out just because they f— with us, and they still come," Castaneda said. "People who were there the first day will be there next month. If it's someone they haven't heard, they will check them out and come support us. They know it's going to be good vibes, and we try to make them feel welcome like family."
Fortunately, the members don't have to make a certain amount every night from the DJ night to keep themselves afloat, Romeri said. This freedom allows Castaneda and Romeri to be more relaxed and choose their acts without pressure to bring in a huge audience.
For now, Astro Jump remains more of the main focus for Kill Quanti. One upcoming new venture is the Astro Jump show on May 9 at Tijuana, Mexico with its location still undisclosed. Though work and other endeavors take the members away from giving time to Kill Quanti, Romari and Castaneda say they still keep their ears for any new exciting sounds and scenes.
"Who knows, if I feel like there's another wave of inspiring sounds popping up, we may get more active," Romeri said. "For now, we're all pretty content doing lots of other things, just expanding in those areas, and applying what we learned here in Astro Jump to use it for other things."