Fraternity course on sexual violence grows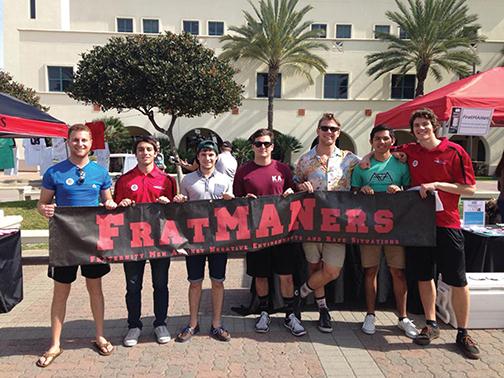 This semester a record number of students are enrolled in FratMANners, a San Diego State course that stands for Fraternity Men Against Negative Environments and Rape Situations.
This is also the first year since at least fall 2010 that there is a member from each of the 12 chapters of the Interfraternity Council.
The three-unit course designed for upperclassmen in fraternities discusses social and gender constructs, rape culture, experiences sexual violence victims undergo, bystander intervention, the role of alcohol and drugs in sexual violence, statistics, legal aspects and more.
By the end of the weekly training course, students learn how to present to other fraternities and organizations the information they learned.
Students are encouraged to return as "active" members after completing the course. While students in the training class are only encouraged to make presentations after the class, returning members are required to conduct presentations throughout the semester.
The number of first-time student enrolled in the FratMANners training course has steadily increased from eight in fall 2010 to 29 this spring, according to the Health Promotion Department. The previous all-time high was 20 students in spring 2014.
Stephanie Waits, health educator and FratMANners coordinator, said she does not actively recruit students, although she has gone to some fraternity meetings to inform them about FratMANners.
Wesley Episcopo, a mechanical engineering senior and Sigma Phi Epsilon member, has been part of FratMANners for two years. Previous Associated Students President and Sigma Phi Epsilon member Josh Morse introduced him to the course.
Christopher Czarnecki, a psychology senior and FratMANners president, said his fraternity, Sigma Alpha Epsilon, recently initiated a FratMANners chair that acts as a liaison between the fraternity and the course.
FratMANners began having a president in recent years after being recognized as a student organization because of its presentations, tabling and outreach.
Changing prerequisites
FratMANners is available to students who have earned or are currently earning 60 units.
While the university has considered lowering the 60-unit requirement to allow younger students to enroll, it will remain in place for now. The Health and Promotion Department, which manages the course, toyed with the idea, but Waits is not actively taking steps to lower the prerequisite.
"For the time being, here at (the Health Promotion Department) we really do believe that his model serves our goal and meets our needs," she said.
Waits said the current format brings in upperclassmen who tend to have had more experiences and knowledge regarding sexual violence and allows them to hone their leadership skills.
For younger fraternity members "it might not carry as much meaning if they haven't experienced certain things," she said.
To lower the unit prerequisite, the course would have to undergo a curriculum approval process, although that wouldn't discourage the department, Waits said.
A revamped course would consist of similar content presented in a different manner to cater to the younger students who lack the leadership skills or knowledge about sexual violence, Waits said.
Episcopo said there are benefits and drawbacks to consider.
"It helps to be an older person presenting, but the knowledge is definitely something everyone should know," he said.
Both Episcopo and Waits said the current class format draws students who want to be there voluntarily.
"We may be able to train more people, but for now, for the model that we have, it's training a small group of people that are passionate about this issue," Waits said.
Waits said conversations about lowering the unit requirements are ongoing.
Breaking down barriers
"One goal (of FratMANners) is to break down barriers that the fraternities put up between them," Waits said.
While traditionally members of social fraternities enroll, a member of a cultural fraternity is part of the course this semester, and Waits said she hopes to have more involvement from cultural fraternities in the future.
"It's powerful to bring together all types of men to convey that this problem is bigger than one chapter or one council," Waits said.
Episcopo also said FratMANners builds a smaller community within the Greek system and said he sees a greater number of FratMANners classes being offered in the future as Greek communities nationwide get more involved to prevent sexual violence.
"I would love it if every one of my brothers could take this class, there's definitely a lot to be learned," Episcopo said.
Waits said last semester fraternity men had to be turned away to keep it to a maximum of about 30 students. She said the unofficial enrollment cap maintains an intimate seminar feel and tries to be diverse by having a maximum of four men from each fraternity.
So far the course has not garnered enough interest to add another section, Waits said.