KCR takes the gold in New York City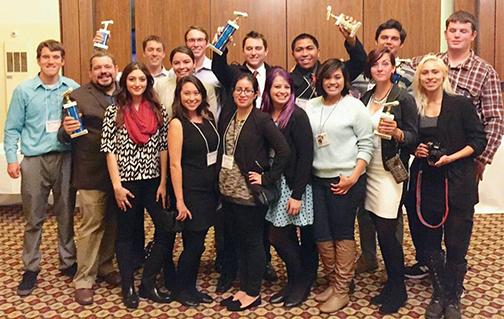 In March, San Diego State's student-run radio station, KCR, received the Golden Microphone for Best Online College Radio Station at the Intercollegiate Broadcasting System Awards. Members of the KCR team traveled to New York City to receive the prestigious award, along with several other college radio stations across the nation who competed for the same honor.
KCR also brought home the Golden Microphone for Best Play-by-Play Other for their coverage of the SDSU men's hockey team and the Best Campus News coverage.
KCR General Manager and Television, Film and New Media senior Olivia Hill has been a part of KCR for the past four years and was confident KCR would place well at the awards ceremony. She knew KCR was going up against strong competition and felt most confident right before they announced KCR as the winner.
The County and City of San Diego have decided to dedicate two days in April to KCR. San Diego County will proclaim April 21 KCR College Radio Day. County Supervisor Dianne Jacobs will present this proclamation at the next Board of Supervisors meeting that day.
The City of San Diego will also dedicate April 28 as KCR College Radio Day. KCR will be presented this proclamation at the next City Council meeting on that day by Council President, Pro Tem Marti Emerald.
KCR has been a part of the SDSU community since 1969. The station started broadcasting in the on-campus dorms, and it has evolved with the invention of cable television and the Internet.
KPBS technology manager and SDSU alumnus Skot Norton first got involved with KCR in 1980 and is still involved with the organization. He remembers having his own radio show and making the transition from vinyl to compact discs during his time as a college DJ.
Before KCR became a managed program of Associated Students, the radio station was an independent organization. Norton sat as the faculty staff adviser for 20 years, overseeing the operations at KCR. However, he used a hands-off approach to watch students grow within the station.
"Listening to young disc jockeys developing their skills is sometimes painful, but it's compelling," Norton said. "I had a lot of authority as the faculty staff adviser but the most important thing to me was not trying to tell college disc jockeys how to run a radio station."
Norton has been a longtime supporter of the radio station and continues to do radio shows sporadically. KCR has huge support from its alumni. In fact, a few old members continue to meet today, and one alumnus in particular has been doing the same radio show for the past 38 years. Every Saturday morning, Joe Shrin has been doing the 6 a.m. to 10 a.m. show.
"The old folks will say they don't remember a lot about their college career, but they do remember being a college radio disc jockey," Norton said.
Norton wants to continue helping students achieve success after graduation and encourages each student to get involved at KPBS. He hopes students don't lose interest in radio and continue to enjoy what they do.
For Hill, sitting as the KCR General Manager for the past year has taught her how to lead a large group of people and mentor them, while encouraging other to stay involved. Hill does a show called The Concussion every Monday.