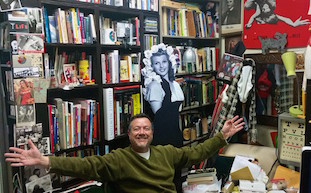 Every student experiences a variety of teachers with different personalities, teaching methods, and aspirations. They experience "cookie cutter" teachers and teachers they're not to found of. But William Nericcio, English and comparative literature and Chicana/o studies professor, director of San Diego State Press and director of the Master of Arts in Liberal Arts and Sciences program, breaks the mold entirely.
Nericcio originally pursued further education at University of Texas for biology with a dream of becoming a researcher in the medical field.
"I was going to flunk out of organic chemistry my sophomore year, so I dropped the course," Nericcio said. "I had never flunked anything before, and it freaked me out."
Incidentally, in the same week, a professor approached Nericcio about pursuing a degree to become an English professor.
"I said no, but I had always read and always written," he said. "I've always been a veracious reader and an artist."
At age 19, he made the decision to a change his major from biology to English.
"I worked with some really great people — got into Cornell, God knows how," Nericcio said. "The rest is history."
Nericcio has been a professor at SDSU since 1991. He loves to teach English 220, Introduction to Literature, and always teaches cinema combined with novels that fit the title and theme of the class that semester. The title of this class is "I/Eyegasm."
"Most kids who take this class expect to be drowned in the classics," Nericcio said. "But for me, literature is a contemporary thing. It's all about storytelling. "
Most of the students who enroll in English 220 are not English majors, so Nericcio tries to create a class that anyone can enjoy by focusing on the aspect of storytelling.
"I'm interested in attracting the most curious minds, regardless of what their interests are, to the value of literary culture," he said. "One of the things I try to do in class comes from the idea of literature as the classics."
Nericcio loves to teach, loves the classroom and loves to run the class with improvisation, just like a stand-up comedian.
"I'm a cross between mother superior, a Catholic nun and a hipster pool shark," Nericcio said. "Wherever I go is based on how my class reacts — it's a collaboration."
Many students that take English 220 with Nericcio love to come to class just as much as Nericcio loves to teach.
"Nericcio is a really amazing professor, he's so energetic and really keeps you awake," undeclared freshman Bonny Troung said.
Some books Nericcio recommends are "After Dark" by Haruki Murakami and "People of Paper" by Salvador Plascencia.
"'After Dark' is one of the best novels I've read in a decade," Nericcio said. "'People of Paper' is by far the strangest book I've read in a long time as it's a meditation on the future at the border. "
Not only is Nericcio a professor, but he is also an accomplished author and artist. He has a traveling art exhibition called "Mextasy."
"I examine what slaves we are to images," he said. "We may know how to analyze words, but images have a hypnotic control over us."
Nericcio wants to encourage students to appreciate college while it lasts, as the opportunity will only come once.
"Don't waste your life, it goes very fast," he said.