Coach Schmidt a staple of SDSU's offensive line success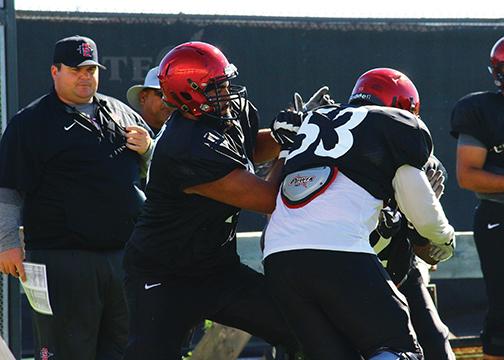 The offensive line might be the least glamorous position in football, and at times it's undervalued. That's no secret.
Often fans only take notice of these hulking giants if they draw a penalty, allow a sack or if the media talks about them. And that only happens when the linemen underachieve.
But don't tell that to San Diego State offensive line coach Mike Schmidt.
"I know most fans have little idea the level of difficulty of what goes into line play," Schmidt said. "The game is won and lost there. The players might look like dancing bears on the line, but every movement has a purpose. One mistake can blow up an entire play, ruin a series and lose a game."
Although he's only entering his fourth season as an assistant coach, Schmidt, a local Madison High product, has been part of Aztec football for a decade.
Schmidt arrived on campus in 2005 as a walk-on player on the defensive line. After watching him play one season on defense, the coaching staff realized Schmidt's skills better suited the offensive line.
In 2007 he earned what every walk-on athlete imagines holding one day: a scholarship.
"It was a dream to earn the scholarship," Schmidt said. "Most walk-ons do not get that opportunity, so to have earned it while playing was an honor."
To cap off his playing career atop the Mesa, Schmidt was named a captain his senior season and in his final home game as an Aztec, he played with a torn medial collateral ligament (MCL) in his knee.
"I remember tearing my MCL three weeks left in the season during practice," he said. "But I knew it was my last football game ever and I wanted to go out playing with my guys."
After his final season, Schmidt realized he couldn't walk away from the game he loved and traded his cleats for a whistle.
As he was finishing his bachelor's degree, Schmidt volunteered as a student assistant with the team in 2009. For the next two years, he worked as a graduate assistant until being named a full-time assistant coach in 2012.
In hindsight, Schmidt's promotion was a no-brainer — his fingerprints are all over the program's recent success.
At least two offensive linemen have earned all-conference accolades each year since he took over as the offensive line coach in 2012.
In that time, SDSU ranks in the top 30 nationally in rushing yards per game (201.1), rushing yards per carry (4.9) and rushing touchdowns (86).
"My philosophy is simple: Come to work ready to learn and do what you're told," Schmidt said. "The guys that come here respond well to that."
As the only coach that worked at SDSU prior to the Brady Hoke era, Schmidt realizes how far the program has come, especially under head coach Rocky Long.
"In my four years as a player we did not win a lot of games, so to see what Hoke started and Long has continued is amazing," he said. "This program has come so far in my time here to where winning eight or nine games is the standard and I am glad to be a part of it."